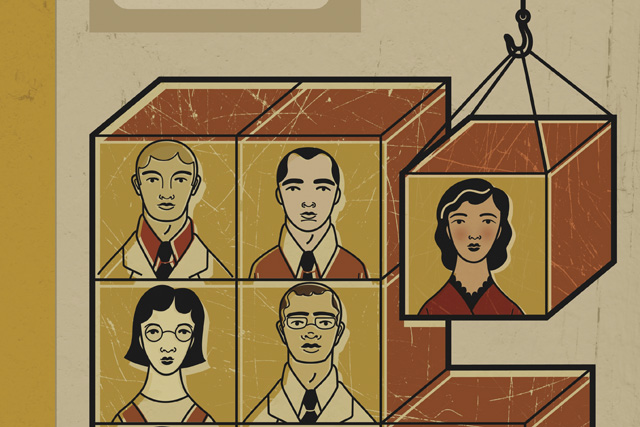 As an industry, we're not known for the high quality of our recruitment - we nick talent and we don't train talent. We steal talent and pay lip service to talent, and the industry won't survive if we keep doing this."
Last month, we were lucky to have Sir Martin Sorrell appear on stage at a Nabs "Audience With... " event to answer questions from a panel of execs from all corners of the industry, crowdsourced through social media.
He talked passionately about recruitment, training and staff retention in the industry, and observed how we're way behind other sectors in this area - and from the conversations the Nabs careers coaches have every day with people from across the industry, I have to say we find it hard to disagree.
The high churn rate in the industry speaks for itself, and is indicative of the hiring policies, retention plans and poaching that plague the business.
Meanwhile, the fear of people wanting to leave, or the trend of flitting around the globe to tempt out the opposition's talent with our chequebooks just to dump them after nine months if they don't achieve lofty targets (something Sorrell calls the Jesus Christ phenomenon), shows a degree of insecurity that is not healthy for a service-led industry.
We've also noticed a dangerous trend towards allowing talent to burn out, or forcing people out of the industry around the age of 40, often when they have the most expertise - something that doesn't happen on the client side.
With all of this going on, it becomes clear why we're getting increased calls to the advice line from younger members of the industry who are struggling to find their way. Recent figures show that 78 per cent of people calling for careers advice are between 20 and 39 years old.
The industry must look at what it can offer its staff to keep the talent interested over and above the pay packet, and we need to start listening more to what our staff actually want.
At the Nabs career service, headed up by Soraya Shaw, the opening conversation with our clients is normally: "I don't know where to begin, and don't know what to do." People are crying out for unbiased careers advice and original ideas on how they can continue their progression while learning new skills.
Our careers coaches regularly hear that the increasingly fragmented nature of the business means that specialists also need to become generalists, but the only way they can do that is to move to another company, because so few businesses offer them the real opportunity to progress and, in doing so, broaden their experience.
One idea that came up was offering staff the chance to work in another part of the industry and with another business on a threeor six-month swap scheme. Your employee comes back energised, full of ideas and happy to be working for such a great company - client companies will ensure their marketing people learn all aspects of the business so they can really add value.
There are also initiatives such as the Marketing Hall of Legends, our own Fast Forward course and speed mentoring sessions that can be taken into account - they're cost effective and great ways to energise staff and fuel cross-fertilisation and networking knowledge.
Another issue that we've highlighted is the rigour in the hiring process. We barely scratch the surface of the time and effort other industries invest in hiring. We don't do any real testing in this industry, we just look at what accounts they've worked on, maybe do a quick psychometric test and show them to their desk.
You don't find this on the client side. I know businesses that run two-day assessment centres, which sound like some form of futuristic internment camp, but are actually dedicated interview days when prospective employees not only sit through solo and group interviews, but are psychometrically tested to within an inch of their sanity and enter role-playing games and test scenarios. Such testing is not for all, particularly in our creative industry, but greater due diligence can be good on occasion.
The people we talk to really don't know how to get the wider experience they crave - we've termed it the "careers crossroads" - and it's up to the industry and Nabs to help them take the right road.
Zoe Osmond is the chief executive of Nabs

RECRUITMENT ADVICE
Tips for employers - Be clear on the recruitment brief. Why are you hiring? What are the competencies/experience needed for success?
- Avoid recruiting a certain "organisational" type that creates a culture of clones.
- Have an interview guide process using both quantative and qualitative measures.
- What specific skills do they need such as team development, management and leadership?
- What wider business experience can they bring that will expand your business (and match client experience)?
- Can they be innovative and entrepreneurial and bring new ways of thinking (to enhance the reputation and work of the organisation)?
- Regular appraisals and feedback are key to motivation and success.
- Pay them well and look after their professional and personal wellbeing.
- Invest in development. Training builds your talent and business. Offer them a job swap with another company to learn new skills.
- Ensure they have a clear career path and that promises are kept.
Tips for employees - Don't feel paralysed. Change happens and you do have choices.
- Take a broader view. Get clear about what you want and why.
What really motivates you? What energises you? Where do you want to create the most impact?
- Think about what steps you need to take to get you there? What achievements support you in reaching your aim? What's "your brand" to help you achieve this and are there behaviours you may need to change to be successful?
- Just get on with it! Waiting for things to happen or expecting others to make it happen for you encourages you to be a passive participant in your life.
- Call Nabs, which can support you with your progress.