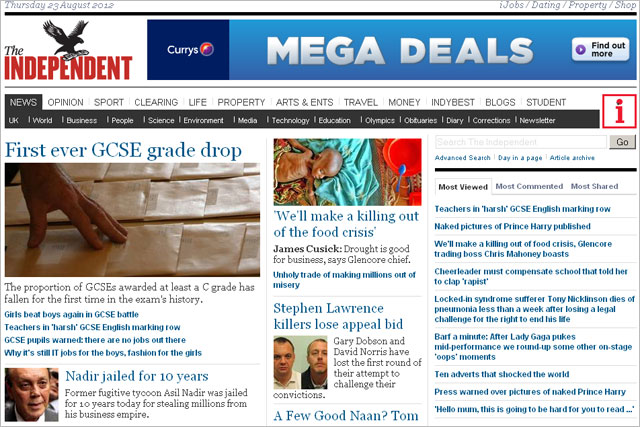 According to July's round of ABC figures for newspaper websites, Independent.co.uk's monthly traffic figures was at it highest ever, leading Andrew Mullins, managing director of the London Evening Standard, the i, and The Independent to liken the site to a "car running well" and no longer spluttering.
The Independent's website was relaunched in November. It reflected the changes made to the newspaper with a striking bold red masthead, along with the subsequent introduction of a paywall for non-readers.
In terms of average daily users, the Independent's website was up 21% to 741,995, boosted by the excitement around the Olympics.
The website of sister title Standard.co.uk also had a strong month, with its monthly user number up over 31% to 3.89 million. The Evening Standard's daily user number was up 28% to 132,409.
Mullins attributed the strong performance to ironing out initial teething problems, which impact most new or relaunched websites, along with people "doing their jobs a lot smarter".
Zach Leonard, managing director for digital at The Independent, said: "July was an outstanding month for both standard.co.uk and independent.co.uk, testament to our ongoing investment in both titles across all digital platforms from web and mobile to tablet."
But the sites remain minnows compared to there big hitting rivals.
In terms of monthly users, all the rest of the national newspaper market was up.
The MailOnline remains far-and- away the market leader with 97.96m monthly users, ahead of second placed Guardian.co.uk with 62.26 million and third placed Telgraph.co.uk with 51.81 million.


Multi-platform report July 2012
Jul-12
Daily change %
Daily avg.
Monthly total
Mth/mnth
yr/yr
MailOnline
6,127,445
97,952,356
4.17
44.54
Metro
355,301
8,415,197
-1.11
3.24
Standard.co.uk
169,257
3,864,901
27.83
N/A
FT.com
N/A
N/A
N/A
N/A
guardian.co.uk
3,453,952
62,262,168
2.34
22.91
The Independent
741,995
16,055,778
21.42
19.19
Mirror Group Digital
819,206
16,760,802
5.36
11.08
The Sun
1,525,397
25,226,715
-0.21
N/A
Times Online
N/A
N/A
N/A
N/A
Telegraph
2,600,607
51,809,888
10.52
32.31