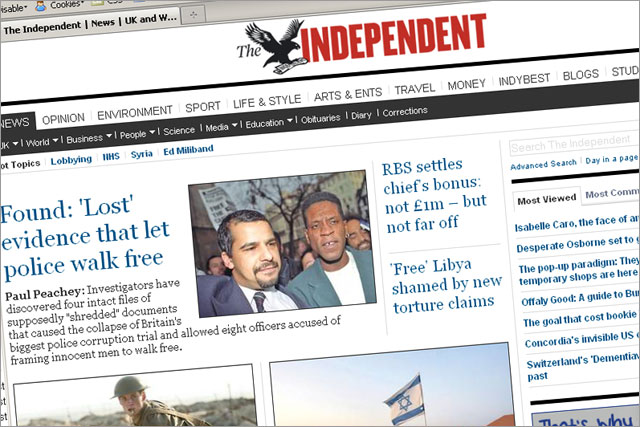 Average daily traffic to Independent Online hit 758,524 in December, up 10.56% on the previous month.
The Independent made a concerted effort to overhaul its digital offering late last year, redesigning the site, which now carries a bold red masthead, like its printed companion and launching a paywall for non-UK readers and an iPad app.
Despite the uplift, independent.co.uk remains a minnow compared to the big cats of national newspaper websites.
But December proved a tough month for the big cats, with guardian.co.uk the biggest faller, shedding over 20% of its average daily users to 2,937,070.
MailOnline, which is the world's largest English-language newspaper according to ComcScore, fell back over 5% to 4,8838,140, according to ABC.
Telegraph Online, the third biggest national newspaper website, fell back 8.16% to 2,156,001 average daily users in December.
News International's Sun Online fell back over 10% to 1,339,077 average daily users.
League Tables
ABCe results December 2011
December
Month/month
Year/year
December
Online title
Glibal Daily Ave
Daily % change
Daily % change
UK monthly total
guardian.co.uk
1,626,788
-20.61
31.45
N/A
MailOnline
2,802,486
-5.03
N/A
84,172,568
Metro
N/A
-7.45
N/A
8,226,791
Mirror Group Digital
N/A
-4.23
44.19
16,311,555
standard.co.uk
N//A
-18.37
N/A
3,199,013
Telegraph
N/A
-8.16
36.17
42,699,603
The Independent
N/A
10.56
50.35
15,833,084
The Sun
19,158
-10.44
N/A
22,132,021
www.insurancetimes.co.uk
N/A
N/A
N/A
N/A
Follow John Reynolds on Twitter @johnreynolds10