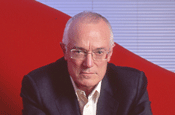 The managing director Simon Toaldo, who joined last September, has decided to leave the company, along with finance director Ian Robertson and comms strategy partner David Indo. At the same time, Chris Ingram is stepping back from his day-to-day involvement with the company.
An official statement said: "We have carried an infrastructure commensurate with our original ambitions, and since those ambitions have not been realised, we have decided to scale back the business with immediate effect." Talks have already commenced with potential partners to shore up the UK operation.
Ingram admitted: "We set up with a wish to change the market, to provide top-table, grown-up thinking, but we just don't have enough of that sort of business. The market has changed. Being seriously smart and pricey is less attractive to a lot of clients than fast and economic. There's a much smaller market for what we're doing than I thought there was and I don't play to my own strengths in a small company."
He added that Ingram is "a nice brand-building business with a blue chip client list but at the end of the day the business needs to make money; we've been carrying a lot of overheads."
According to that last figures filed at Companies House, Ingram made a loss of £1.58 million in the year to 2005.
Chris Ingram launched the company back in 2003, two years after selling his Tempus Group to WPP and making a personal fortune of £64 million in the process. As well as Ingram London and its sister operations in New York and Hong Kong, Ingram is chairman of Woking FC, and investment company and has just become an honorary fellow of the London Business School.