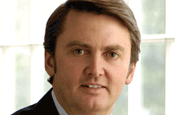 The media network has appointed Mario Mateus, the chief executive of Initiative Portugal, as president across the EMEA region.

He replaces Dirk Wiedenmann, who left Initiative last week along with Jerry Hill, the global strategic development director and former UK chief executive.

Mateus, known in his home market as a digital expert, has been credited with taking forward Initiative in Portugal online.

Additional digital firepower is added to the Initiative offering with the appointment of Bant Breen, the head of IPG MediaLab, as president, digital worldwide communications.

In Asia, Roger Camplisson has been appointed regional representative, adding this role to his remit as the chief executive of Initiative Australia.

In Latin America, Initiative's president, Jean-Christophe Petit, steps up to the same role at IPG's media parent company, Mediabrands, and will be replaced by the Initiative Chile chief executive, Annetta Cembrano.

While the international restructure is designed to build on recent new-business success in the US, which has included the capture of accounts such as Hyundai/Kia and Dr Pepper, Initiative's UK operation is facing up to the loss of its Orange media account amid reports that Tesco is also set to review.

Beaven said: "This is a new era for Initiative. The changes we have made will ensure we are able to face industry challenges ahead and take full advantage of all of the communications opportunities around the world for our clients."