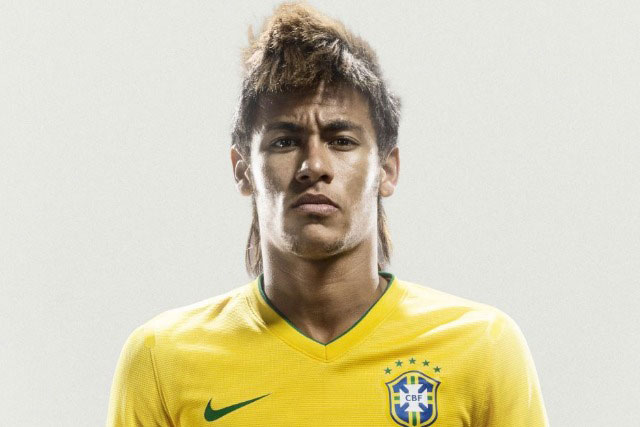 MediaCom's World Cup performance tracker combines sports performance data from Opta with UK TV viewing figures to create an individual sponsorship value ranking for every player who has appeared so far in the World Cup.
Neil Charles, the business science director at MediaCom in Leeds, said that the aim of the project was to come up with a "more concrete measure of a player's value to sponsors".
By incorporating TV viewing figures alongside Opta stats, the performance tracker's sponsorship values are based not only on the player's on-field performances; but also the number of people who have watched them play.
As a result of the high audience figures for the England games, two England players (Wayne Rooney and Glen Johnson) were still in the list of the top 30 players by sponsorship value following the round-of-16 matches, despite England's poor showing and early exit from the tournament.
Top of the table is currently Brazil's Neymar, although following his tournament-ending injury in the quarter-finals, others such as second- and third-placed German midfielders Thomas Muller and Toni Kroos could still overtake him.
The first iteration of the performance tracker is heavily geared towards attacking players, incorporating performance stats for goals, assists and passes completed.
However, Charles said MediaCom could include saves in its post-tournament roundup in light of some of the outstanding goalkeeping performances at the World Cup.
Jon Wyatt, the managing director of the Chime sports marketing agency Fast Track, said that although "sports performance data and TV audience size is a logical indicator of the potential value of sportsmen", it is "only a starting point".
Wyatt said: "While a useful guide, [performance data and TV audience] should not be considered a methodology for making decisions, as it assumes that these factors are relevant to all brands equally, which is not the case.
"The true value to a brand will depend on the specific objectives of the partnership and the activation programme that is built using the rights purchased."
Charles said there was the potential to incorporate more specific player-related comments from Twitter into the sponsorship value:
He said: "We've got a scanner running that grabs every mention with a World Cup hashtag and then drills down into what people are talking about around that.
"Potentially we could look at things like the amount of Twitter conversation around a specific player name to see whether, for instance, Neymar continues to be talked about in the semi-finals and final despite being out of the tournament.
"We could also potentially look at whether the comments about a specific player are positive or negative and incorporate that into their sponsorship value score."
Meanwhile, MediaCom also looked at which official tournament and England sponsors are being talked about the most alongside World Cup hashtags on Twitter, and compared these rankings with their traditional advertising spend.
This revealed that, in the battle of the sportswear giants, although Nike spent more than three times the amount Adidas did on TV, radio, press and outdoor advertising from 1 June 2014, this translated has into less than a one per cent advantage in terms of brand mentions on social media.
Charles said: "It's interesting to note how close Nike, with 16.8 per cent of total tournament and England sponsor brand mentions, and Adidas with 15.9 per cent, are, with really quite different media strategies."
Although he had concerns about the methodology MediaCom used to assess the value of sportsmen in this case, Wyatt said the "valuation of sponsorship properties is an essential step for any brand considering entering into a partnership arrangement".
Wyatt continued: "The rise of sporting celebrities has increased their attraction to audiences and therefore brands, but has also increased the pressure for a rigorous evaluation methodology and a way of adding science to the art of sponsorship selection.
"The challenge, and the reason why there is not a standardised methodology, is that the rationale and objectives for entering into a partnership arrangement are different for every brand and every partnership."