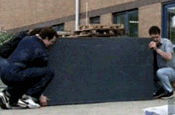 The company has been approaching agencies directly, with a brief to take a new and fresh approach to the brand's marketing.

It is thought to have drawn up a shortlist of agencies including Publicis, Hurrell Moseley Dawson & Grimmer and Saatchi & Saatchi, with a pitch set to be held at the end of November.

An appointment is expected before the end of the year.

In recent years, the National Accident Helpline, which helps people claim compensation after an injury, has used the Direct Response Television Centre to handle its advertising.

The agency has produced a number of ads for the company, highlighting its "no win, no fee" service.

The ads feature real-life examples of claimants who have won compensation following an accident.

These include a woman who won £5,000 after she suffered a knee injury when slipping on a reception floor.

Earlier this year, the company launched an SMS call-back service that allows viewers to respond directly to its ads via their mobile phones.

It also launched a website that enables victims of accidents to find out immediately if they are entitled to compensation.