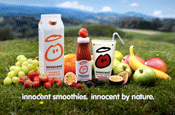 The ad, by Lowe, claimed that smoothies contained more goodness than orange juice, because they included the flesh of the fruit.
The ASA today rejected a complaint by DDB London that the ad had denigrated fruit juice, and exaggerated the benefits of smoothies.
But the authority said: "We considered that viewers were unlikely to infer from the ad that freshly squeezed juice was less beneficial than it was, merely that smoothies could have additional benefits."
The authority also heard evidence from nutrition experts that although a smoothie did not contain the whole fruit, it contained more of the whole fruit than freshly squeezed juice.
The ASA said no further action was necessary.