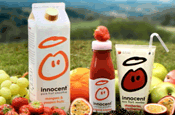 It has approached a number of agencies and is putting together a shortlist.

The winning agency will initially be briefed with creating a TV campaign to promote the brand, focusing on its health benefits.

The work, to be broadcast in January, will be targeted at consumers who are looking to become healthy following the excesses of the Christmas period.

The incumbent on the account, before it moved in-house, was Lowe London, which picked up the business in October 2005.

Lowe still works with the company on projects, but is not taking part in this review.

Albion, which works on Innocent Kids, the company's specialist children's range, has also declined to pitch for the business.