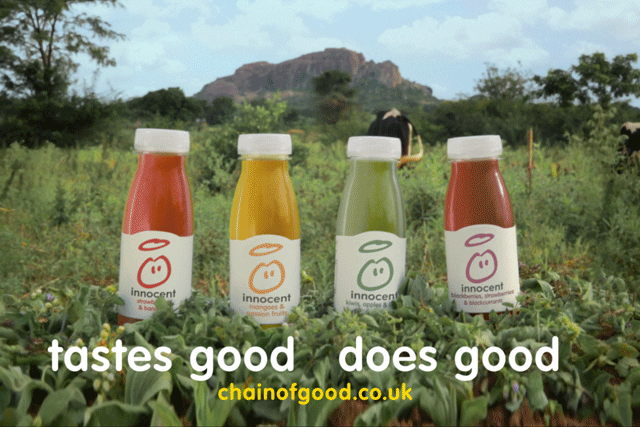 The new strategy, which uses the strapline, "Tastes good does good", aims to highlight the taste of its smoothies and drinks alongside the message that 10% of the business's profits are given to charity.
The campaign, created by Innocent's in house creative team and 101, has been shot in Uganda and follows the story of Joseph, a local boy whose family has been aided by donations from the Innocent Foundation.
The Foundation is a grant-giving organisation that works with NGOs to create what it believes should be the future of sustainable farming and to help create a secure future for farmers. It has 16 partner projects, mainly based in countries that Innocent sources its fruit from.
This work will help Innocent to join up its communication across all its products to give an overall brand message. A dedicated site for the activity, www.chainofgood.co.uk, will go live on 1 January next year.
Innocent is set to grow sales in its smoothie and not-from-concentrate juices business next year through innovation, such as new children's recipes and campaign activity, as well as offering its kids' drinks in supermarkets for individual sale for the first time.