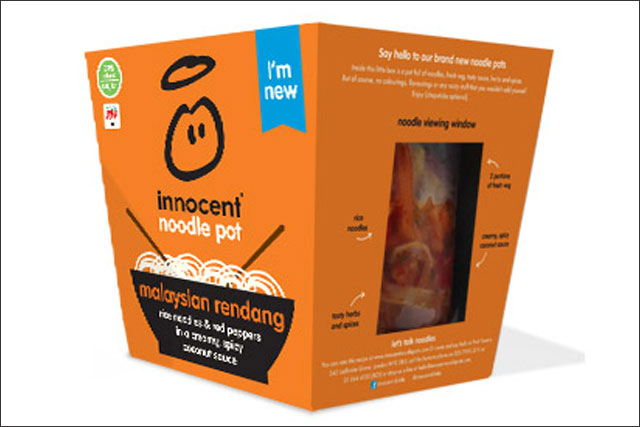 The noodle range, which will launch in April, comprises four meal that will be sold in the same format as Innocent's existing Veg Pots.
The four meals are: Vietnamese curry with udon noodles and edamame beans in a coconut sauce; Japanese ramen containing udon noodles and shitake mushrooms in a miso sauce; Thai tom yum of rich noodles with red peppers in a hot and sour sauce; and Malaysian rending of rice noodles and red peppers in a coconut sauve.
Innocent is now discussing listings with retailers that currently stock its Veg Pots.
The new noodle pots will be priced at £3.79, like the existing Veg Pots, and will be supported by digital marketing and PR activity.
The latest Veg Pots claim to contain less than 300 calories of fresh veg, noodles and sauce.
Separately, Innocent is caught up in a trademark wrangle over its 'halo' logo.
A design company has won two EU-wide cases invalidating trademarks registered by the smoothie-maker.
Follow @johnreynolds10