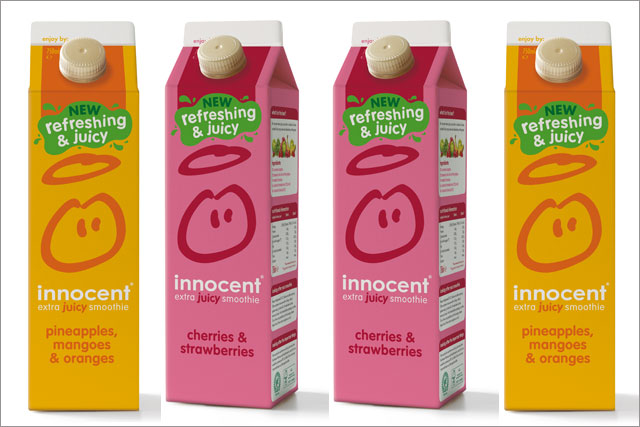 The Coca-Cola-owned drinks firm's new range is being marketed via social media channels and in-store activity later this month. In an ad in the retail trade press, Innocent described the new line as "The best thing since crushed fruit".
Extra Juicy Smoothies are packaged in Innocent's take-home cartons and come in three flavours: cherries and strawberries; pineapples, mangoes and oranges; and strawberries, blackberries and raspberries. The standard crushed fruit ingredient has been blended with extra juice to make the drink more refreshing and "easy to drink".
An Innocent spokeswoman said: "Some people told us that they find the texture of smoothies a bit too thick for them – especially to have with a meal.
"So our new Extra Juicy Smoothies have been especially developed to be a more refreshing smoothie to appeal to new drinkers, and of course our current drinkers who would like to try something new."
The range will go one sale at major supermarkets in the next week or so and will be priced £2.79 per carton.

Earlier this year, Innocent reinserted the word "juicy" into its flavoured water products, after switching from Juicy Waters to This Water six years ago; while in February, soft drinks giant Coca-Cola increased its stake in Innocent Drinks to more than 80%.