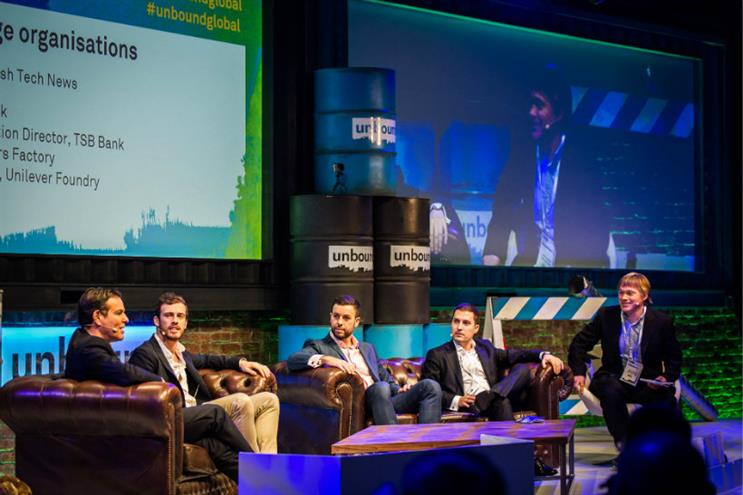 That's according to Brent Hoberman, founder and executive chairman of Founders Factory.
Speaking at Unbound London 2016, Hoberman added another barrier was employees becoming too long in the tooth.
"One of the biggest challenges in corporates is tenure," he said. "They become wonderful to stay at for too long and that way you don't get new thinking."
He added that after eight years at Lastminute.com, the company he co-founded with Martha Lane Fox, he became the barrier to new ideas. "Start-ups should have creative chaos, everyone should be stretched beyond their comfort zone and have more responsibility than they get anywhere else."
TSB's digital innovation and transformation director, Pol Navarro, and Lloyds' senior innovation lead, Alon Zadka, added that culture change at banks was a slow process.
"Innovating from within the company is very complicated," said Navarro. "Big companies are orgnised by process [...] and less driven by creativity and design."
He drew an analogy with football, noting that the most innovative players start off as a squad player, rather than playing for the first team. "It's very difficult to create new players from within the first team," he said. "There's something similar at big companies - trying to drive creativity in the first team is not easy."
Navarro separately told Campaign that TSB has split its chief digital officer role into two between himself and digital director Jonathan Hall. The two work closely with marketing director Nigel Gilbert to spread digital innovation across all facets of the business - among employees, for customer-facing products and in marketing.
Zadka added that changing the culture at Lloyd's was "difficult".
"The place is not geared up for it," he said. Part of the reason is that any new financial, consumer-facing product must go through months of due diligence. "We have to shrink that into one week - and we have been battling through that for four years."
But both Navarro and Zadka said their respective banks were becoming tech savvier, implementing open banking and upgrading platforms to plug in third-party technologies from start-ups.