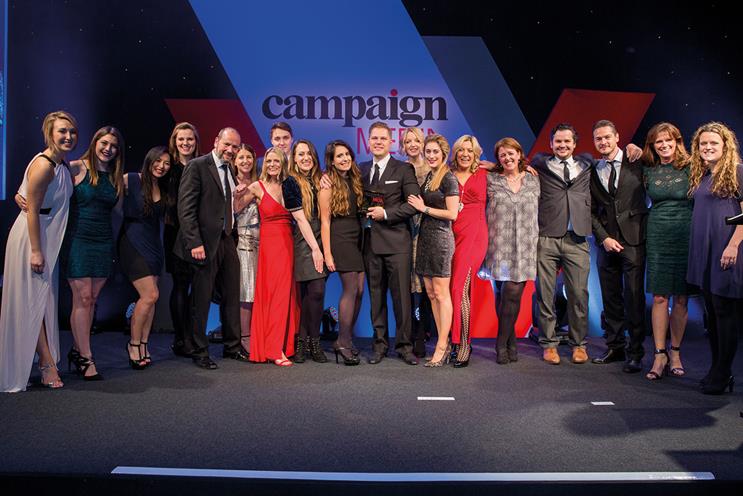 The lines between media and creative are blurring. The smartest media agencies are moving beyond their core expertise in planning and buying to embrace a wider range of creative skills and disciplines. That ranges from content creation and brand partnerships with media owners to data analytics and the creation of physical products and intellectual property.
For proof, look at the two big winners at this year's Campaign Media Awards, held last week at the London Hilton hotel on Park Lane with our event partner, Bloomberg Media.
PHD and Talon won Campaign of the Year for coverwrapping The Sun with the image of an Oreo biscuit and combining that with digital out-of-home activity to coincide with the solar eclipse on 20 March.
MEC won Agency of the Year after picking up a string of awards for creating a branded radiator key for HomeServe to promote its home emergency insurance service.
These two campaigns could hardly be more different.
PHD and Talon based their idea on the insight that Britons are obsessed with the weather and used attention-grabbing broadcast media to create branded content around a solar theme in new and innovative ways for Oreo's owner, Mondelez International. Persuading The Sun to give up its hallowed front and back pages for a topical coverwrap was a feat in itself.
MEC's creative insight came from examining search data on the e-commerce auction site eBay and discovering that searches for "radiator key" often led to home emergency insurance purchases.
The agency convinced the client to invest in a piece of intellectual property and consumers could purchase one of thousands of keys that were put up for sale on eBay for 1p each.
PHD's chief executive and the chair of the awards, Daren Rubins, put it well when he said in his speech: "The work this year pushed the notion of diverse capabilities further than we've ever seen before."
The Campaign Media Awards differ from some other ceremonies because they recognise work by sector, from financial services to grocery. This matters to clients – their primary objective, after all, is to beat competitors in their field.
This year also saw the launch of The Bloomberg Data & Creativity Award, which recognises the most creative use of data.
MEC took home the first-ever gong for its Sugar Accumulator. Created on behalf of Public Health England, it enabled shoppers to see how much sugar was in each of their planned purchases and suggested healthier alternatives.
Oreo
Matt Sanders, a managing partner at PHD, explains the thinking behind the 2015 Campaign of the Year:

This was one of those rare moments when everything came together in terms of concept, collaboration and execution. And, if we're honest, it went way beyond our ambitions.
First, some context: Oreo is a huge brand with annual sales of $3.3 billion, making it the biggest biscuit or "cookie" brand in the world.
If you grew up in the US, it's probably a big part of your childhood. But that's certainly not the case on this side of the pond.
Oreo enjoyed a modest 10 per cent of unprompted awareness and an astonishing 40 per cent less "trial" than the UK's market leader.
Mondelez International challenged us to drive trial and make Oreo a more iconic brand in the hearts and minds of Brits. It also asked us, with tongue firmly in cheek, to win some awards too. Mondelez acknowledged the scale of the challenge but said it was prepared to sign off big ideas.
For an agency with creativity at its heart, this was a dream brief. So where did the idea come from?
We're always on the lookout for cultural moments that we can align with to amplify our clients' brands, so identifying the eclipse on 20 March as a huge opportunity for Oreo was relatively easy.
The magic was the insight that there are few things the UK media love more than a story that involves the weather. In this case, its ability to compromise the celestial event of the decade, because we anticipated that cloud or rain would probably spoil it for most people.
So we decided to create an alternative Oreo eclipse, placing the brand at the heart of the occasion within landmark media.
We coverwrapped – or "eclipsed" – The Sun (for the first time in its history) and incorporated Royal Astronomical Society data into digital outdoor sites to recreate the eclipse with the exact timings and trajectory of the sun and moon on the screens. It might sound simple, but did you realise that the eclipse started five minutes later in Edinburgh than in London?
Then there was the small matter of execution. We began with the client, who immediately bought into the idea and found a not-immodest budget. Then there was persuading The Sun's editor to break new ground by allowing us to coverwrap the previously sacrosanct front page.
Partnering with Talon and Grand Visual to feed live data into a number of digital outdoor sites could easily have gone wrong, as the public – the ultimate judges – can never be taken for granted. As it was, Britons both embraced and built on the social push that we initiated.
The result was an incredible experience. We picked up a load of awards. And did I mention we sold a ton of biscuits too?