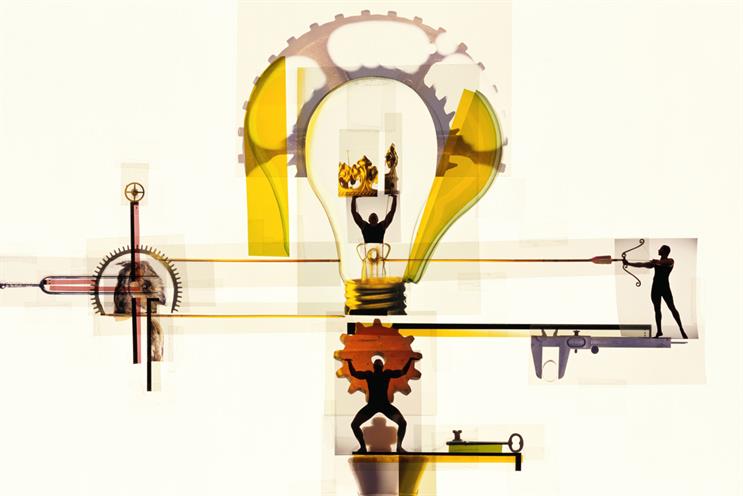 Last week, Google hosted a Firestarters event, which brought together assorted innovation thinkers to talk about the "agency innovation conundrum". The conundrum being: what exactly is innovation, does a specified person need to be responsible for it and how does this work practically?
Firestarters are always interesting and thought-provoking but, on this occasion, the conversations I had with attendees raised serious alarm bells. It struck me that the innovation industry had just spent the evening debating what it is that we actually do. A nagging voice says maybe some of us don't really know what we do or, to be more specific, don't know the concrete value of what we do.
Overused and misused The first problem of innovation is semantic saturation.
As The Onion so brilliantly wrote: "Four days into the culture and technology component of the SXSW festival, event organisers confirmed that the word 'innovate' has been spoken 650,000 times thus far. 'People are saying the word "innovate" at a rate of 8.2 times per second and, at that pace, we can estimate it will be uttered approximately 24 million times before the festival ends,' said SXSW co-ordinator Lucas Bryant." Oddly, while I believe innovation is an overused, misused and maligned word, it also operates as an adland panacea in the way that social once did and digital did before that.
Too often, innovation is pitch bait rather than linked to tangible goals. To quote The Onion again: "'Investment model', 'practical business strategy' and 'economic realities'… have been mentioned a total of zero times."
Strategy needed
Last year, the IESE Business School and Capgemini published a global study on what businesses believed to be the biggest barrier to innovation. The number-one reason cited was "the absence of a well-articulated innovation strategy". That doesn't surprise me. It stems from the fact that no-one has an agreed definition of what exactly innovation is. If you don't really know what it is, how on earth can you set goals and, without goals, how can you develop a well-articulated strategy to get there?
I have been asking advertising colleagues what innovation is and what an innovation director does. These are the kind of answers I heard: "An innovation director needs to be focusing on adding fun back into what we do, because better ideas come out of environments where people are having fun"; "We are about new – embracing it and doing it"; "We're makers"; "Our job should be about helping our clients make better products". Everyone tells me something different. No-one seems sure of what exactly innovation is. It reminds me of the US Supreme Court Justice who, when overseeing an obscenity trial in 1964, famously said he couldn't define obscenity but that "I know it when I see it".
As an industry, we seem so focused on shiny, new, disruptive innovation that I think we are missing out on incre-mental, internal innovation, which surely has to come first before we lecture clients on broken business models and product inadequacies.
We need more grown-up talk about business and growth strategies. This has to be the year when adland's innovation practitioners need to grow up or, put brutally, shut up. It's time to make ourselves invaluable. If we can't do that, then I think we should conclude that our industry innovation era has failed.
I hope that we are implementing a grown-up approach to innovation at Chime. We start with an agreed definition and active chief executive buy-in – nothing matters if you don't have that. We see innovation as "a series of smart experiments that make a difference". It's a series because innovation is continuous. They are experiments because we start with a problem, agree a hypothesis and then launch an idea.
Some experiments work, some don't; but all are successful so long as learnings are fed into the next experiment. The hugely successful start-up incubator Y Combinator says that even when a start-up it has funded fails, the founders tend to stay in the Y Combinator family and take the learnings to launch a new business. That's our innovation approach.
It's all about experiments
Within our thinking around "smart experiments", this year we are focusing on innovations in people, product and process. So far this year, we have launched, or are launching, a number of key initiatives around people, product and process. These range from the formation of a youth board that mirrors the executive board to new types of training partnerships for the PR division with Google, from software as service product launches to the building of new, cross-network collaborative work platforms. It has been brilliantly busy and it's only just the start of the second quarter.
The key question is: what do you need your innovations to do? Once that is agreed upon, then maybe your innovation director can stop talking ivory-tower innovation and start doing grown-up
innovation focusing on new ideas and behaviours that significantly add to an agency's bottom line rather than its Twitter following.
Amelia Torode is the head of venture strategy and innovation at Chime