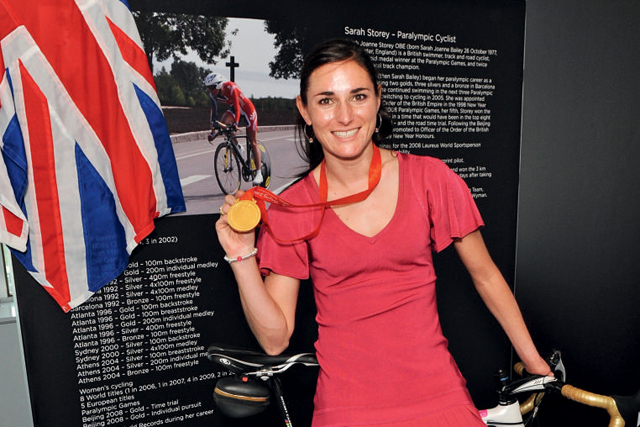 Sarah Storey is one of Britain's greatest ever Paralympians; her first five gold, eight silver and three bronze medals were won at swimming before she switched to cycling.This afternoon she racked up her third gold medal of London 2012. Successfully finishing one minute 34 seconds clear of the rest of the field at the C5 women's road cycling time trial at Brands Hatch.
Storey, who very narrowly missed out on becoming the first British athlete to compete in both the Olympic and Paralympic Games this year, is an Olympic ambassador for brands including Links of London and Scottish Widows.
She believes her commercial partnerships have enabled her to meet new challenges. For example, for someone who was bullied at school and describes herself as having 'wet hair and bad skin', appearing in the hallowed pages of Vogue was hugely exciting. Her role as the official face for Links of London's London 2012 Olympic range of jewellery has enabled her to enjoy a wealth of experiences outside her life as an athlete, with its gruelling six-day-a-week training programme.
Sophie Barrett, press manager at Links of London, who is overseeing its official London 2012 jewellery range and Storey's work as one of its Olympic ambassadors believes the partnership has bought something new to the brand. She says that working with athletes has been different from Links' usual campaigns, which typically involve models or celebrities
Q&A: Marketing caught up with Sarah Storey last April to find out how she combines her gruelling training regime with her commercial commitments.
- How did you become one of the faces of Links of London?
Links invited me to the store in 2009. My family had a small business in jewellery, so I have always known about it.
I mentioned I was going to the Glamour awards and Links offered to lend me some jewellery. So when they asked me to be the face of the brand I was delighted. It is a two-year deal.
- How do you balance your rigorous training schedule with sponsors' commercial demands?
I generally train six days a week, and weekends are great, as there are fewer lorries on the road. I have a Word document that I circulate every month with my timetable on it. Any association will only work if the training comes first. Cycling is more flexible, as I have use of the gym at One Aldwych Hotel, and I know I can get the right food there too.
- What advice would you give to brands looking to sign up an Olympic ambassador?
You have to have an open mind about ambassadors. Athletes can never work in the same way as models. It won't work if (brands) try to treat the relationship the same way as they would with a model. Once a brand realises training must come first and foremost, then it's easier. Having an open mind extends to knowing that a lot of the decisions are out of our control. For example, I might be sent to Florida, as I need warm weather to train. Our programmes ebb and flow, and when a brand part-ners an athlete, it needs to know that an athlete does not have a nine-to-five job. It might be time grabbed between sessions at the training ground.
- What are you most looking forward to at the Games?
Lord Coe has set out a concept for the Olympic and Paralympic games, 'One games, one city and one success', and here in the UK, we lead the way with innovation. If you want to sponsor the Olympics, you also sponsor the Paralympics. We athletes need to step outside the bubble of the Games and look and see the excitement and vibrancy of the city. That's what I am really looking forward to.