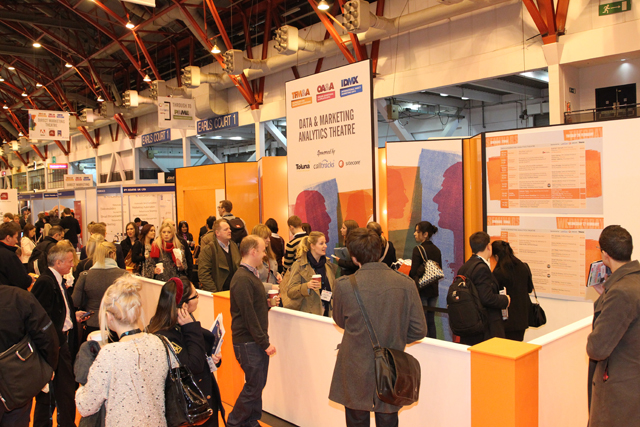 Development should feature prominently on every marketer's to-do list – not just in terms of career and personal progression, but also in the context of keeping their knowledge, skills and ideas at the cutting edge.
With that in mind, a few of the industry's top experts who are speaking at this year's TFM&A show tell us which future trends are gaining momentum. Anthony Simon of the Prime Minister's Office & Cabinet Office, Dr Dave Chaffey of Smart Insights, and Sherilyn Shacknell, founder of The Marketing Academy
also reveal what they believe marketers should be concentrating on in 2014.
We also highlight some of the key sessions taking place at this year's show (see panel, opposite page) where you can find out what the rest of the marketing industry thinks is important when it comes to the latest digital trends and techniques.
In addition, Dr Chaffey will present the latest trends in digital marketing techniques at the show using exclusive research findings from a recent survey.

Discover more about TFM&A and register now at: www.t-f-m.co.uk/register
---
TFM&A keynote speakers on
marketing must-haves
Anthony Simon, head of digital communications, Prime Minister's Office and Cabinet Office

Everyone needs social media and web skills at the heart of all they do. That means moving away from simply digitising analogue practices. Practically speaking, this can mean presenting information in innovative and compelling ways – in graphical or video formats, supported by social-media engagement.
I think 2014 will be the year that far more communicators master this approach.
Last year, we looked at how government communicates digitally. Our Digital Communications Capability Review made it clear how all communicators need a digital skill-set. It's not just knowing how to tweet or publish a web page, but about engaging, listening and responding via digital.
In the public sector, at least, I can see a growth in the ongoing trend toward free and low-cost tools. Interesting infographic tools, as well as short audio and video productions, using things such as Audioboo and Vine, will be the things that help our content to stand out from the crowd.
Sherilyn Shackell, founder, The Marketing Academy

The attitude of a young marketer will dictate their success in the industry, not just the discipline they choose to work within. No matter how good their skill-set, I'd choose to work only with a young person who is inquisitive, brave, focused and resilient, who can demonstrate clarity of thought, is willing to listen, learn and challenge and who takes responsibility for their actions.
These skills can only be applied if you can tell a story in a compelling way, influence the people around you and communicate meaningfully – and that is about leadership.
The ability to lead is the most important skill any young person should be learning. Leadership is not about people management; it's about the ability to influence and inspire another person in a way that enables that person to be the best they can be, achieve more and do more.
Technical skills, knowledge of trends, commercial understanding – are all vital tools – and all easy to learn on training courses. However, it is an individual's personal beliefs, ambition, abilities, character, attitude, leadership qualities and motivation that should be nurtured and developed in order to equip marketers for the future. Skills can be learned at any time but attitude is a choice.
Dr Dave Chaffey, digital marketing author, consultant and trainer, CEO, Smart Insights

It is important for marketers to monitor the latest trends as they offer opportunities to gain a commercial edge. In our recent research, we found that many marketers felt their organisations were not sufficiently agile nor running tests of new techniques. Respondents cited a lack of methodology for measurement, slow progress due to multiple decision-makers and the attitude of senior managers to investment in innovation as the main barriers to change.
We also asked marketers in which areas they felt they most needed to develop their knowledge. As expected, key customer touchpoints such as search, social media and email marketing were areas where many marketers wanted to improve their knowledge (up to 50%).
The three top areas where most marketers were looking to improve their knowledge were developing a digital strategy, content marketing and CRM, and big data. CRM and big data housed the biggest knowledge gaps with nearly two-thirds of marketers citing them.
A sneak peek at the TFM&A keynotes
With the complete line-up soon to be announced, here is a sneak peek at who will take to the renowned TFM&A keynote stage to share their inspiring work and knowledge in relation to the marketing year ahead.
TUESDAY 25 February 2014
11.30-12.10
Fuelling growth through digital marketing in 2014
Dr Dave Chaffey, digital marketing author, consultant and trainer, CEO Smart Insights

Dr Dave Chaffey will explore the latest trends in digital marketing techniques using exclusive research findings from a recent survey of UK marketers by TFM&A and Smart Insights. In this session, he will recommend strategic tasks for creating a more robust approach to managing digital marketing, with a focus on growing leads and sales. He will also provide practical advice and examples of leading companies that are applying the latest techniques with success. In addition, the session will provide advice on techniques and tools to help create a more integrated, customer-centred approach to marketing.
WEDNESDAY 26 February 2014
10.00-10.40
Opening keynote Downing Street moves into a digital age
Anthony Simon, head of digital communications, Prime Minister's Office & Cabinet Office

12.30-13.10
The future of mobile: what's next after the smartphone?
Simon Birkenhead, Director, global advertising sales, Telefónica Digital
14.00-14.40
Panel debate The Future of marketing: have Gen X or Gen Y got what it takes?
Chair Sherilyn Shackell, founder, The Marketing Academy
Panel
Selina Sykes, director of ecommerce, Unilever
Charmaine Eggberry, director, Wayra
Philippa Snare, CMO, Microsoft
Jonny Miles-Prouten, UK/Ireland digital activation manager, The Coca-Cola Company
Sarah Ellis, head of CSR, Sainsbury's
Kristof Fahy, CMO, William Hill

Chaired by Sherilyn Shackell, founder of The Marketing Academy, these leading industry names will address core themes in an interactive panel session, including:
Specialist versus generalist marketing: risky road to niche alley or necessary evolution?

The digital skills divide

The evolving needs of businesses: what are the implications?

Advice for new marketers

Managing your marketing team set-up

Skills/self-development: how can the generations best learn from each other and what are the best forums for learning and developing skills – mentoring, coaching, online training or professional qualifications?

Leadership: good and bad examples across generations with consideration given as to whether leadership styles need to adapt for the future