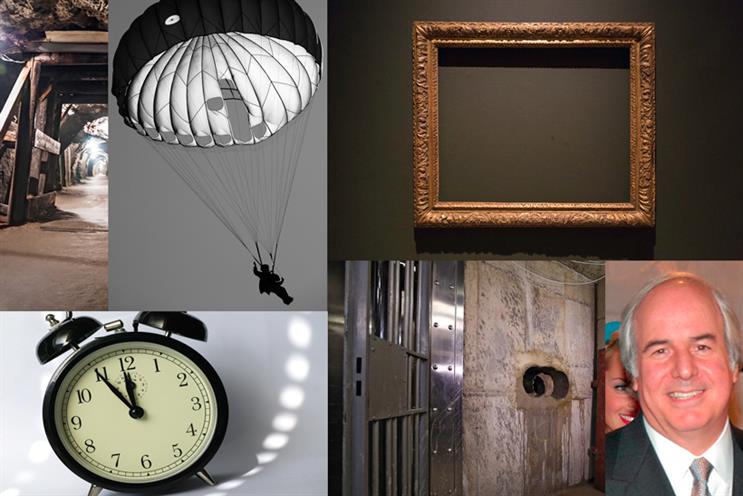 It is no surprise to hear that the Hatton Garden heist is to be made into a movie featuring Ray Winstone and Sir Michael Caine. This is yet another classic case of creativity meeting criminality – two spheres of life that are surprisingly close.
The parallels between entrepreneurs, creatives and criminals have not gone unnoticed by academics. Studies of creative individuals have shown them to be good liars, arrogant, distrustful and just a little crazy.
Fundamentally, the source of all creativity is "scarcity". Criminals' lack of resources means there is no box to think outside of, leaving creativity as their only option.
In brand archetype terms, criminals literally are the rebels and outlaws. Their naturally suspicious minds enable them to subvert their imaginations, thus identifying weaknesses and opportunities others cannot see.
I carried out an audit of some of the more audacious crimes in history to arrive at the Miscreant Ten Commandments for Creativity.
1
Exploit an Achilles heel. In 2006, the French "vacuum gang" robbed a supermarket, which had envelopes of cash funnelled into its safe through pneumatic tubes. Rather than drilling into the safe itself, the gang drilled into the tubes and sucked out the money.
2
Take baby steps. In 2003, a group known as the School of Turin used a range of disabling techniques to perform the biggest diamond heist in history. Motion detectors were dis-abled through a silicone spray, light detectors were rendered useless by tape, while the safe alarm was demobilised when the group cut it from the door and frame, keeping the magnets together and allowing the door to be opened at will.
3
Play the long game. The 1971 Baker Street burglary, in which £3m was stolen, was achieved by tunnelling under a rented store two doors down from a Lloyds Bank. In order to not attract attention, the criminals only dug and drilled at the weekends, so the process took months.
4
Devils deal in detail. The "Pink Panthers" are a Serbian gang of thieves noted for their bold style and intricate planning. Their success rate is down to their attention to detail, as evidenced when they robbed a Biarritz jewellery store – the criminals coated benches around the store in fresh paint to eliminate potential witnesses.
5
Do your homework. Albert Spaggiari was the mastermind behind a French bank robbery in 1976. In preparation of the heist, he opened a security box at the bank and placed a loud alarm clock inside, setting it to go off at midnight in order to check the existence of any acoustic or seismic detectors. He established that none was present and went on to dig a tunnel through the sewers.
6
Think big. One of the most infamous crimes in aviation history was committed by Dan Cooper in 1971. He boarded a plane, sat silently at the rear and then calmly ordered a whisky from the flight attendant, handing her a note saying he had a bomb and the plane was being hijacked. He demanded $200,000 and four parachutes to be delivered at the flight's destination, Seattle. Once the cash was delivered, he ordered the pilot to fly to Mexico and, shortly after take-off, strapped on a parachute and jumped – never to be seen again.
7
Milk every opportunity. The Hatton Garden jewellery robbery was an intricate theft in which 70 safety-deposit boxes were stolen at an estimated value of £35m. The gang deliberately used the noise of the nearby Crossrail project as cover while breaking into the vault – helped by the fact that Crossrail had already sent letters to local residents apologising in advance for the noise.
8
Reinvent to keep ahead. Frank William Abagnale Jr conned airlines, banks and hotels out of millions to finance his jet-setting lifestyle. By the time he was 21, and with no qualifications, he had been a Pan Am pilot, a doctor, a lawyer and a sociology professor, allowing him to keep one step ahead of the law and running money-making scams along the way. Abagnale's story was made into Catch Me If You Can starring Leonardo DiCaprio.
9
Be audacious. In 1990, policemen arrived at the Isabella Stewart Gardner Museum in Boston, claiming to have received a call about a disturbance. Once inside, they arrested the security guards and handcuffed them away from their desk. The policemen were in fact thieves in disguise, who then made off with 13 paintings worth $500m. No-one has ever been arrested and the paintings have never been recovered (the museum displays empty frames of the works to this day).
10
Know your audience. In 1925, Victor Lustig contacted a number of scrap dealers in France and convinced them that he was a government representative tendering for the dismantling of the Eiffel Tower. He quickly identified Andre Poisson as his most lucrative target, as he was gullible, insecure and looking to make a name for himself. Lustig managed to "sell" the tower for 250,000 francs and even extracted an additional bribe to ensure Poisson "won" the bid.
In contrast, creativity in advertising has been murdered by risk-averse corporate short-termism and diminished creativity in society as a whole (as evidenced in Peter Field's Selling Creativity Short). The Miscreant Ten Commandments should therefore serve as timely inspiration to challenge our own thinking and creativity.
---
Dave Lawrence is the planning partner at Brave