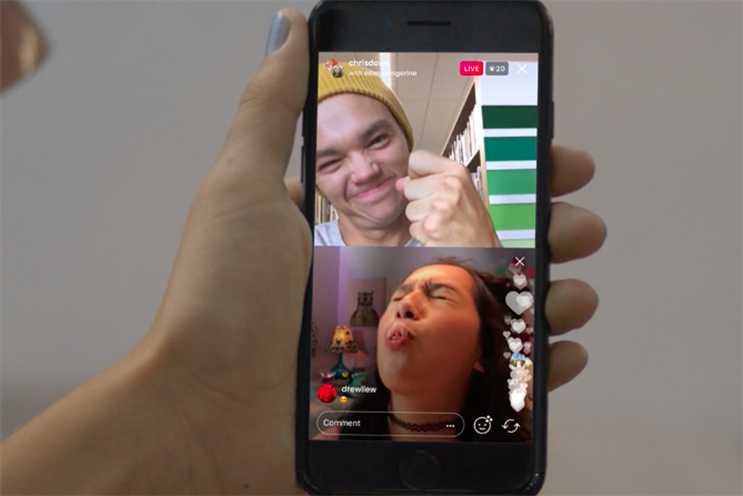 Instagram's Live Stories has more than 250 million daily users, according to numbers from Wochit. Whereas, Snapchat has 173 million daily active users, according to the platform's latest financial report.
"For me, Instagram Live stands out as a clear winner against Snapchat's offering currently," Laura Muldoon, editor at We Are Social, said." Instagram is in that sweet spot of 'cool' but also easy to use and understand which I think is where Snapchat falls down for now."
Overall, Instagram's total audience size hit 800 million active users in September.
"Facebook has an advantage of its existing audience and the cross-channel into Instagram. That puts Snap in a very weak position to re-engage users and increase virality," Yuval Ben-Itzhak, chief executive at Social Bakers, said.
Experts agree that Instagram's constant innovation, such as "Live with a friend" and Superzoom has played a part in the continued success of Instagram Live Stories.
"Instagram hasn't rested on its laurels, by adding in more features to its 'live' offering, such as filters and the newly introduced option for a real-time story to replay for up to 24 hours," Dror Ginzberg, co-founder and chief executive of video creation platform Wochit, noted.
The addition of replays makes video content more accessible and will drive higher engagement levels, he added.
"While stories are the lifeblood of Snap and they are leading the way with augmented reality, Instagram's offering is already more popular and growing at a rate Snap can only dream of. This is because Instagram knows exactly what demographic it's targeting, and just the right way to curate content to this audience," Ben-Itzhak noted.
This popularity, plus the fact that Instagram's ads often cost less than Snapchat's means that brands too prefer Instagram, he continued.
"Plus, Instagram provides more viewability metrics than Snapchat. Currently, having a programmatic access to the Snap platform requires special permission from Snap. This means that both marketers and advertisers have no programmatic access to learn about the audience and know what content to create and how to target. Snap is open just for a selected number of brands," Ben-Itzhak said.
Instagram is even outperforming parent company Facebook, he said. "From the period March to September 2017, total impressions and reach for Instagram posts are 20% higher than on Facebook. This further proves that Instagram will be the social platform of choice in 2018."
Like Facebook, however, Instagram's user base is getting increasingly broad. This benefits Instagram in terms of audience numbers now but could cost it its younger audiences.
"You can see that Instagram is moving into the Facebook territory in terms of its broad user base. We're seeing more of our parents log on and use it, which is a sure sign it's going mainstream, whereas Snapchat stays mainly confined to a younger audience and so hindering its uptake," Muldoon said.