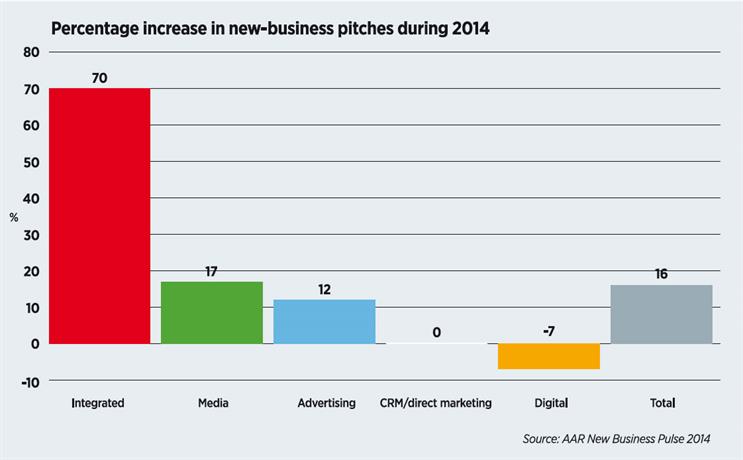 AAR's New Business Pulse 2014 study showed that the number of overall reviews had increased by 16 per cent year on year.
The most dramatic change was in integrated pitches, which were up 70 per cent on the same period in 2013. Much of this was from smaller clients looking for a single agency to handle all their activity.
But there were also some larger brands, including British Airways, BMW and the British Heart Foundation, looking for an integrated model rather than separate specialist agencies.
Advertising reviews were up by 12 per cent, with nine reviews completed where a client had a budget of more than £20 million (Argos, B&Q,
Direct Line, Dixons, Dreams, The Great Initiative, McCain, Blu and Smart Energy GB). This compares with seven in 2013, an increase of 28.6 per cent.
The number of CRM/direct marketing pitches remained the same as 2013, with reviews including Moneysupermarket.com, National Express and Scottish Power.
Media pitches were up 17 per cent on last year and included reviews for Camelot, Disney, Microsoft, Telefónica and Vodafone.
The most fertile sector was travel and holidays, followed by food, retail, alcoholic drinks and finance.
The AAR chief executive, Kerry Glazer, said the first half of the year was busy but the summer was quiet. Business picked up again in October.
"After a decade of decline, it is good to see growth in the new-business market – often a barometer of client confidence. We are optimistic that the upward trend will continue into 2015," she said.