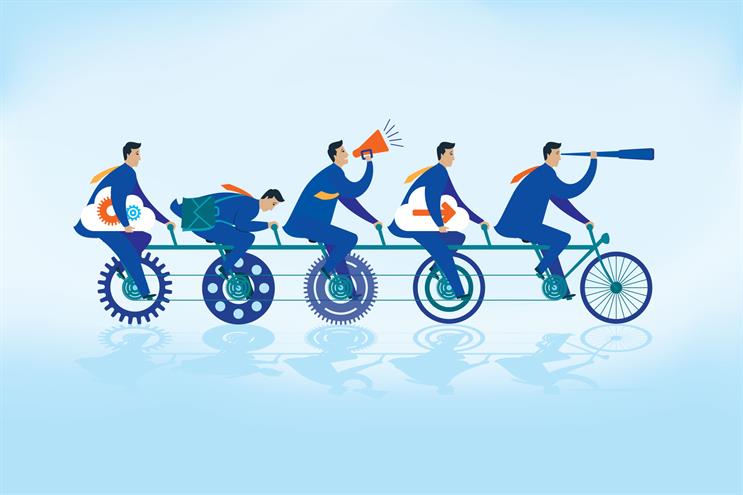 Not so long ago, any discussion about how best to ensure an integrated approach to marketing was based on an assumption that ultimate responsibility for this rested in the hands of just one person: the marketing director. However, in today's multiplatform, "omnichannel" world, brand owners are having to accept that integration is no longer "just" a marketing concern.
For proof, look no further than the emergence of new roles and the redefinition of existing ones as brand owners grapple with ensuring a seamless experience at every step along the customer journey. For some organisations – in the US, especially – this has meant introducing the chief (marketing) integration officer (CIO) role. American Airlines, Condé Nast and Miller Coors are among the organisations to have chosen this path.
But, despite being widely discussed over the past few years, this trend has been slower to take off in Europe.
Yes, the CIO is a title currently held by senior executives at a number of organisations, including Investec, Lastminute.com and Norwegian Cruise Line Holdings. But many more – from Dow Jones to House of Fraser and, in September, John Lewis – have opted for a different title, that of customer director or chief customer (experience) officer (CCO), instead.
The move towards CIOs – whether they hold this title formally or not – is seemingly happening on both sides of the Atlantic and among clients and agencies.
"Roles are definitely changing along with team structures, as in-house teams grow more diverse and reach across disciplines in both their structure and function," Jim Joseph, the president of the Americas and chief integration officer at Cohn & Wolf North America, says. "It's because when people are left to their own devices, they don't naturally incline towards integration but do their own thing."
And yet, at first glance, the idea of creating a specific role to ensure marketing integration strikes some as a contradiction.
The pressures that might lead to the appointment of a CIO are understandable, but creating another silo by taking integration out of the central marketing function cannot be a solution, they argue.
For others, however, the idea of designating not just one person to keep everyone focused on ensuring marketing integration, but ensuring that person has the authority to push through the organisational, structural and strategic changes that might be necessary to make integration happen, does make some sense. And the more senior that person within the organisation, the better.
A major obstacle to integration is when an organisation lacks, or struggles to convey to its employees, a clear vision or sense of purpose, according to Stef Gans, the chief strategy officer at Interbrand North America.
"For this reason, the chief marketing officer is often best positioned to drive integration because the most powerful and unifying communications tool is a company's brand," he explains.
"Perhaps the greatest challenge to achieving marketing integration, however, is when the executive briefed to do so does not have the authority to implement the full range of changes required to achieve it. And, because of this, the executive best positioned to deliver integration will need to be sufficiently senior to make decisions across different departments, not just marketing."
Whether or not the best-positioned senior executive is the CMO will vary by organisation, Dominic Grounsell, the global marketing director at Travelex, believes. "An important question is how that business defines 'marketing'," he points out.
"In more digital businesses, especially where responsibility for digital products such as apps sits outside the marketing function in other departments such as IT, 'integration' goes beyond integrating marketing communications to aligning every single aspect of customer experience."
A big issue in this debate is that "integration" means different things to different companies. Are we talking integration of communications channels or across all customer touchpoints? There is a difference.
For the avoidance of ambiguity, Grounsell adds: "'Chief customer officer', or similar, is terminology that works best for me as it spans product development, pricing and retail experience as well as marketing."
An important first step towards achieving truly integrated marketing is to set people up in a way that gives them "a fighting chance of benefiting from the co-operation required to achieve integration", according to Luke Mugliston, the former global brand director at Aviva and now chief executive of The Gate.
"Often this will involve having a relatively dictatorial view. And you will need a clear idea of what 'success' looks like within your organisation so people can work together towards delivering the same objectives across an increasing and increasingly diverse array of channels. Integration is tough to achieve," he says.
"But once those seen to be doing it are seen to be reaping the benefits of integration, then others will follow."
---
---
Integration in action

Monster Worldwide… where integration is the responsibility of the vice-president, marketing
Just who should have ultimate responsibility depends on the organisation and the nature of its business.
While, for some, that role might sit best within marketing, for others, it might sit better within IT. But whoever holds it needs an ability to build bridges with, and secure support from, a cross-section of people from departments business-wide, Monster vice-president, marketing, Andrew Warner believes.
"Key challenges to achieving integration for any organisation are understanding the right balance between the generalist and specialist skills required in-house and ensuring everyone across the organisation is united behind a clear point of view with common perspective and objectives," he explains.
Often, a company without a clear message to the outside world lacks a clear message within, Warner believes. Which is why CMOs are uniquely positioned to be "the connective tissue within a business" – dealing regularly with HR on the skills required, with IT on channels, infrastructure and data, with finance, with sales and with commercial.
"At Monster, we have brought customer experience in with marketing to ensure end-to-end delivery across different brands and channels is properly co-ordinated," he continues.
"We have created a marketing leadership team who look after different elements of marketing and each work to achieve different parts of a single strategy. My role is to bring in the right people and bring them together to work on a brief and send them away to execute it because someone needs to be the adult in the room to bring everyone together to ensure this."
---
Lastminute.com… where the chief integration officer is also the deputy chief executive
The primary objective of the officially designated chief integration officer at Lastminute.com is to effectively integrate two businesses post-acquisition.
The aim is to create scalable and seamless structures and a business model with one technology platform, the company's deputy chief executive and chief integration officer, Matthew Crummack, explains.
Earlier this year, Lastminute.com was acquired by Bravofly Rumbo Group, the Swiss online travel agency with a portfolio of brands – including Bravofly, Rumbo and Jetcost – offering desktop and mobile web platforms that enable users to search, compare and book flights, package holidays, accommodation and other related services. The business subsequently changed its name to Lastminute.com Group.
"Post-acquisition, we quickly integrated all marketing teams across the group to work under one umbrella, bringing together digital and brand expertise from both businesses. In addition, we have had the opportunity to redefine our approach in a number of areas, ensuring that we connect thinking across channels and activity," Crummack says.
Shortly after, the group made Lastminute.com the core brand of the business and announced increased marketing investment with a new European brand campaign that launched in June across the UK, France and Italy.
"To maximise the return on brand investment, we designed a fully integrated plan to connect any meaningful emotional response from the TV ad with the target audience in any given channel," Crummack says.
"TV is still a powerful influencer among our customers but it cannot be viewed in isolation, so our investment was maximised through consistent activity across every customer touchpoint."