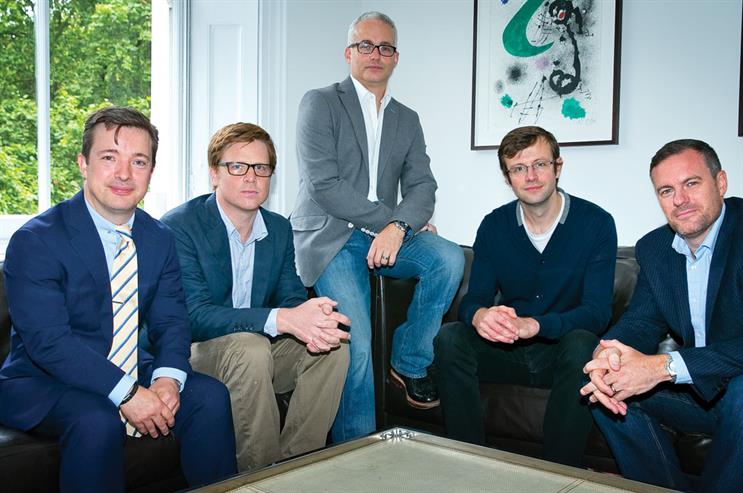 Brand marketers have a lot on their plate. The high street is in a death spiral and consumers are proving ever-more unpredictable in their shopping patterns. Connected consumers are calling the shots in their relationships with brands, deciding how, and even whether, they want to engage with them. Moreover, barely a week goes by without another 'must-have' technological development promising to shake up things further.
Where once integration seemed to be the answer to those quaint-sounding challenges of yesteryear, because of the fragmenting media landscape and more-savvy consumers, today's marketers are tested by a different order of complexity that calls for a new approach. They have started to talk of 'interconnectedness' to describe the new relationship between consumers, brands, technology and media.
Marketing brings together a panel of agency and media experts to get to the bottom of this new term and discover whether it has the capacity to enlighten, or bewilder brands further.
What does interconnectedness mean to you?
Integration is a way for an idea to work around people's behaviour that doesn't waste media, says
Ben Mitchell, planning director, The Red Brick Road. "Inter­connectedness relates to the nature of media. Integration is a way of coming up with ideas that work best, often through interconnected media."
Interconnectedness has moved the integration debate on from what was an old-school brand idea towards a more behavioural frame­­work, says James Devon, planning director, MBA. "This allows us to look at where people are searching and put content there. By connecting data systems and experiences, we can look at purchase journeys and eco­systems."
An example is MBA's work for Sage Appliances, which largely eschews trad­itional advertising, relying instead on activity to amplify product reviews and blogs. Stuart Smith, vice-president client service UK & Ireland at advertising technology company Mediaocean, points out that the phrase is commonly heard in tech circles. "It's more of a two-way approach involving listening to the customer. Connected systems enable agencies and brands to collect data and make better decisions."
Despite the advent of smarter tools, human character still intercedes when it comes to achieving interconnectedness, argues Mitchell. He recalls a client who was looking for a big launch idea that could play in an integrated way. In true democratic fashion, there was no lead agency, with the players left to determine the best approach. "After three months and 2000 man hours in meetings, not one idea was bought by the client because nobody was leading."

How can brands achieve interconnectedness?
In some ways, it's the same as it ever was. A strong central idea that can 'travel' is the core. French supermarket chain Intermarché introduced 'Inglorious fruits and vegetables' to sell the imperfect produce that is usually rejected, providing a story that linked cutting waste, nutrition and value for money. "Greens loved it, foodies loved it and the finance director loved it, as traffic went up by 24%. It was an interconnected idea that applied to lots of different areas," says Mitchell.
The consumer is leaving a trail that indicates their actual behaviour – it's not claimed data and that is so different
Different clients want different things, adds Devon. "We do the B2B for O2 and work closely with VCCP, working to a traditional big-agency agenda. It's about being grown-up. Elsewhere, for clients like Neilson Activity Holidays and Everest, we provide an end-to-end story – ads, direct and the website – working hand in glove with the media agency."
Everest is owned by a private-equity company that thrives on data and business intelligence. Providing this, MBA has almost real-time insight into how the business is performing and the latitude to work out problems and fix them, whether that means changing the user experience, introducing a new offer, or changing the TV content.
While some brands have a strong strategic view of how their brand should be presented, others still expect the agency to take ownership of the campaign, explains Mitchell. "It used to be the creative agency, although things have moved on, but somebody has to do it, otherwise it's a free for all and nothing happens."
With agencies now feeling that they must demonstrate competence in an ever-wider set of skills, turf wars are not a thing of the past. However, clients today have settled a lot of those issues, says Devon. "They are more knowledgeable and confident, and agencies have found ways to work together."

Who is getting it right and why?
Defining what makes for a successful connected campaign is difficult. Most great integrated ideas can be traced back to a brief that combined boldness and vision, contends Mitchell. "There are millions of great creative ideas lying on the agency floor. You need to be able to pull through on the brief and explain how it will work in all relevant areas. Walkers' 'Flavours' campaign is a great example."
This comes down to the client bringing together boldness, simplicity and clarity, according to Richard Shotton, head of insight, ZenithOptimedia. Sometimes it can be about the size of the client team.
"If a small number of people makes the key decisions, then things can happen more quickly. Comparethemarket is a huge brand, but it's quite a small team driving it," he says.
Devon cites Paddy Power's 'Rainbow Laces' as an inspirational campaign that has pulled together disparate elements – creative, PR, football clubs – which could have happened only with a client's driving force. "A client's experience also comes into play – it gets easier if you've done it before, and it becomes a preferred way of working," says Mitchell.


Much is spoken about the importance of data and the science of marketing. How do you leave room for the 'magic' that is surely the best way of cutting through if everyone has the same tools?
Shotton says there is little danger of 'identikit' mark­eting as there are still too many variables in play. "Not everybody is looking at the same data. Their interpretation will come out in different forms, and of course data tells you about your particular brand."
The feeling is that there is also an element of luck that needs to be factored in. Everybody can see that the meerkats have proved to be a great idea for Comparethemarket, but at the time it was a ballsy move in the staid world of financial services.
Mitchell suggests you can mitigate risk by putting more money behind an idea, with many average ideas spent out of trouble. Devon, meanwhile, calls for a broader definition of creativity: "There can be creative buying of AdWords. You need to look laterally at business solutions."
What are the tangible benefits of a more inter­connected approach?
Each discipline creates its own data, and if all are learning from each other, then you have better customer insight, says Shotton. The big difference is in the type of data that is available now, which is actual behavioural data, rather than inferred behaviour. "We can see people's genuine motivations now. There are so many opportunities and so much information. Just knowing what terms people use to search allows brands to talk to people in their own language," he adds.
For marketers drowning in jargon, this is not to be underestimated, says Smith. They need to speak the same language as the consumer because their technology choices are determining the shape of the interconnected world. "I heard somebody the other day talk about 'traditional digital'… and viewers don't talk about 'consuming linear TV'."
Devon claims that agencies are now called upon to deliver commercially like never before and that interconnectedness is a way to do so. "It's about effectiveness, efficiency, delivering business and driving value for stakeholders. You need to be structured in a commercial way to do this."
According to Smith, brands have to be interconnected because consumers are. "It's a necessity, and if you don't do it, you will be left behind. But consumer adoption of technology is so fast that it's proving hard to keep up."
Many technology platforms such as Snapchat and Instagram are developing in Beta and allowing for interpretation of use. Delivering an MVP (minimum viable product) is forcing the pace of change, he says. "It's so different from a few years back where the products had to do everything before they were released."
We can see people's genuine motivations now. Knowing what terms they use to search allows brands to talk to people in their own language
Devon points out that technology writer Clay Shirky has said that technology is interesting only when it becomes culturally significant. It is up to agencies to understand when this has happened and how technology can be used by brands. "We do digital conferences for O2's B2B customers. They are not a selling exercise, but have gravity and utility – that's important to that audience."
What's exciting about the interconnected future?
The overlap between communications and tech­nology is an area that enthrals. Branded utilities such as Domino's fridge magnet orderer, Nike Fuel and Fiat eco:Drive demonstrate how the line between the campaign and the product is blurring.
Mitchell predicts that this is an area that will continue to develop. "It can say more about the brand than traditional comms. Look at Unilever's Flora hands-free recipe app that allows you to swipe at a tablet to turn recipe pages without smearing it with your cook's fingers."
Data is set to become ever-more crucial, predicts Smith, pointing to data/technology combinations such as BA's 'Look up' campaign. "You've got a company like Sky that is a content and tech­nology provider. It has a huge user base and performance data. Imagine tying that up with Tesco Clubcard. It would lead to huge insights."
Shotton is also excited by interconnected data sets. "The consumer is leaving a trail that indicates their actual behaviour – it's not claimed data and that is so different. We work with beer brands and found that if you serve them in different glasses, people don't always do what they've told you they do. But it's only potential at the moment, and depending on how you use it, it could still confuse rather than produce clarity."
Indeed, the misapplication of data is the root of Tyler Vigen's Spurious Correlations website, which supports the idea that you can prove anything with statistics. The divorce rate in Maine may correlate with margarine consumption, but it doesn't mean you can act on it.
One realisation that brands are going to have to accept in the interconnected future is that they can no longer control the narrative. Devon points out how cosmetic brand Feel Unique found that the majority of the advice on purchase came through YouTube, where 95% of cosmetic videos are made by fans. "There are kids of 18 and 19 years old with 5m followers. Only 5% of content is from brands. If you don't understand that, then you are up the creek."