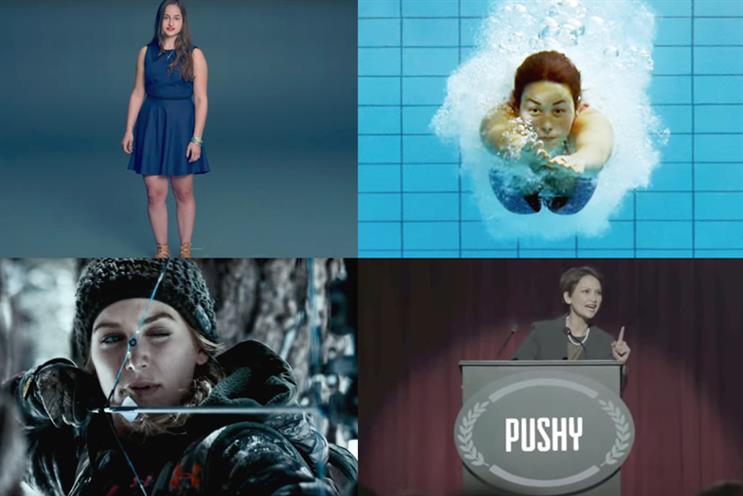 ---
February 2016
Ariel #ShareTheLoad
This ad from India went viral after Facebook's chief operating officer, Sheryl Sandberg called it: "one of the most powerful videos I have ever seen." It shows a father writing a letter to his daughter apologising on behalf of every dad who has set the wrong example by never doing the housework. The ad finishes with the line: "Why is laundry only a mother's job?"
---
October 2015
Barbie Imagine the Possibilities
This amusing advert encourages young girls to be whatever they want. Mattel is looking to empower females by allowing girls to imagine the possibilities from being a soccer coach, lecturer or a vet.
---
April 2015
Ram Trucks Courage Is Already Inside
Breaking out of stereotypes is the theme of this spot. It showcases a range of women and asks the question: 'Have you ever thought I could never do that?". It urges women to throw it into another gear.
---
June 2014
Always #Likeagirl
The groundbreaking ad #Likeagirl aims to give confidence to young women and fight female stereotypes. It asks young women to 'run like a girl', 'fight like a girl' and 'throw like a girl'. Then it asks young girls to do the same - with a different outcome. The ad asks: "When did 'doing something like a girl' become an insult?"
---
June 2014
Verizon Inspire Her Mind
This follows a girl from toddler to teenager showing how she has been dissuaded from getting involved in technology and science. It says: "Our words can have a huge impact. Isn't it time we told her she is pretty brilliant too?"
---
June 2014
Hello Flo First Moon Party
This humorous US ad deals with a girl's desire to be a woman, with hilarious consequences. To be part of the "cherry slush club" of girls that have started their period, one girl fakes it with Rubylicious nail polish. Her mother throws her a Full Moon Party, inviting all family and friends to celebrate. When she admits she faked it, her mother gives her the Hello Flo period starter kit.
---
Feb 2014
Covergirl #GirlsCan
The make-up brand is about encouraging girls to take up the challenge to break barriers and turn 'can't' into 'can'. The spot shows celebrities Queen Latifah, Ellen DeGeneres, Sofia Vergara, Katy Perry, Janelle Monae and others fight against the statement "girls can't".
---
Dec 2013

Pantene Philippines Labels Against Women
Male and female employees are viewed differently in the workplace. The spot shows that when a man is considered the 'boss', the equivalent woman is considered 'bossy'. If a man works late he is 'dedicated' while a woman is 'selfish'. The ad finishes with the words 'Don't let labels hold you back - be strong and shine.'
---
April 2013
Dove Real Beauty Sketches

To show women 'You're more beautiful than you think', Dove has a forensic artist draw sketches of their faces based on the view they have of themselves. It also asks someone else to describe their face, and their view was much more positive. The ad fits into Dove's wider, ongoing campaign to make beauty a source of confidence, not anxiety.
---
January 2013
Sport England This Girl Can
Sport England encourages women to participate in sport with the opening statement "I jiggle therefore I am". It tells women to forget about any of their bits that wiggle and to have the confidence to do whatever exercise they want to do.