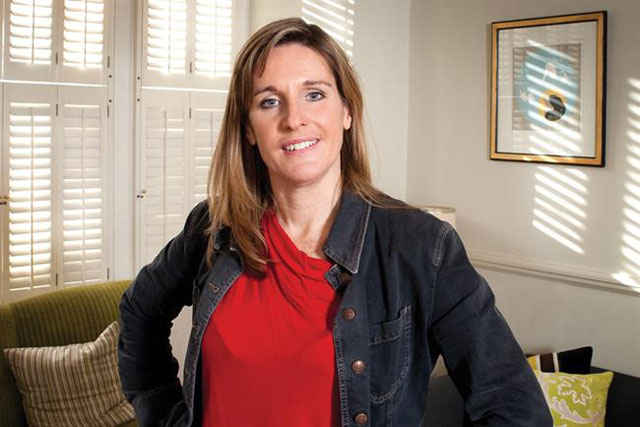 Has being a woman helped or hindered your career, or neither?
It has helped to give me a different perspective creatively, which is an advantage not a disadvantage. I think that whomever you are, you need to bring something different to the table. So if you look around and notice there's a bunch of people who look like each other, but nothing like you – count your lucky stars and shuffle that old seat of yours closer to that table.
What are your top three tips for women getting into the advertising business?
Be interested in people and behaviour, not just ideas.
Choose an agency that invests in and promotes women. Don't be fooled by them telling you they do – look for evidence of it.
Don't hide your skirt under a pair of trousers.
Tell us about a woman you admire in the industry.
Can I please have three? Elly Woolston (The W in BHWG), an early female agency founder. Cilla Snowball, for investing in and promoting female talent in the AMV Group. And the irrepressible Hannah Mathews, whom I now work with at Karmarama. All have an elegance, diligence and dignity that I rarely see and so admire
Is work/life balance an issue at agencies?
Yes. But I think it is changing. I think we are starting to recognise that both men and women need more "work" balance so they can both make "life" work. Particularly when you have children. In most cases "childcare" seems to still be the responsibility of the mother.
I am constantly picking up on guys when they say they are going home to "babysit" their kids. No you're not – you are taking your turn to look after your children. (See how fun it is to work with me?)
Until that mindset changes, it is difficult for women with children moving up the agency ladder and competing for that next promotion. And it is difficult for men in our industry who want to do their share at home.
Do you think women are portrayed positively in advertising campaigns?
No, not always. Not even most of the time. But the exciting thing is I have seen when women are portrayed positively in advertising, it cuts through and connects in a way that will surely pave the way for other brands to follow.
Only 26 per cent of people in leadership roles in advertising are women (IPA Census 2013). Is this enough?
No.
It is up to those of us in leadership positions (both male and female) to make sure the pipeline is full and the blocks to staying in the industry are removed. And if that block is an insufficient work/life balance - we need to address it. It is the elephant in the room.
Having a wife at home was once seen as a pre-requisite to a man being promoted. It meant he could focus on the "job at hand". We need to enable our male and female talent to focus on family, life, other interests – as well as "the job at hand". The hairy unanswered question is – in a service industry like ours – is it possible?
Read our first Q&A in the series with Cheryl Giovannoni, the chief executive of Ogilvy & Mather UK.