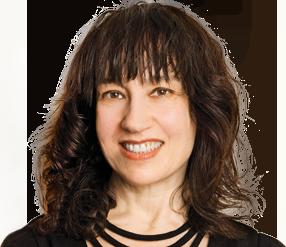 Only 26 per cent of the people in leadership roles in advertising are women (IPA Census 2013). Is this enough?
Gender diversity is good for business, particularly in leadership roles. Twenty-six per cent is significantly lower than the overall gender split for under-25s in agencies, which is 57 per cent female. No it isn't good enough and it isn't changing fast enough.
Who should change this and how?
It's a big question. When I started out in the business, there were only a few women bosses, but we were sure that was going to change. It hasn't changed enough.
There are a variety of reasons for this that I am exploring in my next book. I have a feeling that it will only change if businesses focus on changing the situation and work hard to create a culture where it is normal for women to rise through management, as we seem to have done at MediaCom.
Has being a woman helped or hindered your career?
Well, I am a woman so it is difficult to know how my career would have developed had I been a man. I wouldn't say that being a woman has hindered me overall and there have been situations that I have been aware that being a woman has been to my advantage.
I think you have a different set of tactics at your disposal as a woman. Sometimes it can be easier for an alpha male to accept being asked questions and challenged by an alpha woman than by another alpha male.
Is work/life balance an issue at agencies?
Work/life balance is an issue if you do not create firm boundaries. This isn't particularly a gender issue, although when you have young children and you're the mum, I think you're essentially doing two full-time jobs. You can't do everything, the key is to choose what you can do and do it well.
What are your top three tips for women getting into advertising?
If you agree to do something, then deliver it a bit better and a bit earlier than expected.
Understand that you must promote your good work as well as do good work.
Don't expect to be managed. Understand that you must manage yourself as well as people up, across and down.
Tell us about a woman you admire in the industry.
There are so many, and I work with many here in Theobalds Road. But I really admire Jan Smith (now a consultant) for being brave, pioneering and supportive. She was one of the first women clients in financial services and in motoring. She taught me how to take an idea and make it bigger.
She insisted that I try to join WACL (although they did turn me down at that point as I was too junior for them), and she had bigger ambition for me I think than I did at the time.
When I worked first worked closely with her (in the 1990s) I had fewer women colleagues and the fact that she was a senior, fearless and creative force was a real support to me. I don't think I have ever thanked her. I'd like to now. Thank you Jan.
Do you think women are portrayed positively in advertising campaigns?
Some are and some aren't. Same as men. I think women are portrayed positively in good advertising campaigns, which doesn't mean most advertising campaigns.
Read our other Q&As with Cheryl Giovannoni, the chief executive of Ogilvy & Mather UK, and Caitlin Ryan, the group executive creative director of the Karma Communications Group.