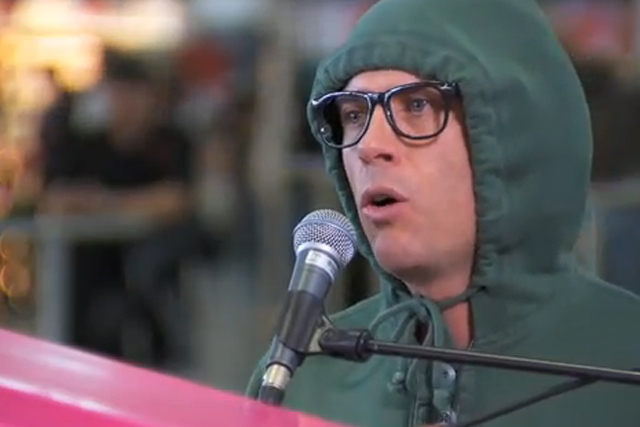 M&C Saatchi Sport & Entertainment devised the campaign for T-Mobile, building on the brand's recent Heathrow ad.
Merton shot to fame thanks to surreal renditions of songs he gave via internet site chatroulette.com.
Films he made of the encounters generated more than 18 million hits on YouTube.
T-Mobile, part of the Everything Everywhere empire that also includes Orange, has hired the American to greet passengers at Gatwick, Manchester and Glasgow airports.
Tina Cleary, senior brand experience manager, said: "The public response to our TV ad filmed in Heathrow has been astounding and we have been inundated with requests to give others a welcome-home to remember, so this is exactly what we are going to do.
"Merton is the perfect person to help us bring a smile to the face of weary travellers with his distinctive, quirky and hilarious improvisation skills, meaning we'll be able to give thousands of people a welcome back to the UK that they'll never forget and hopefully want to share."
Merton said the T-Mobile campaign was "beautiful and I'm glad to be involved in something with such a good-natured vibe to it."
Merton greeted passengers at Gatwick and Manchester this week, and moves to Glasgow on Saturday.