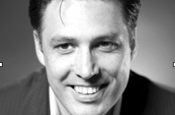 George, who currently works for the IPG network Universal McCann as global lead, digital media and strategic innovation, will be responsible for developing strategic partnerships and alliances for Mediabrands in the digital space.

In addition, George, previously a senior vice-president of Avenue A/Razorfish in the US, will continue in his role leading Universal's digital activity.

Mediabrands' digital assets outside the Universal and Initiative networks include the search and social marketing specialist Reprise Media and the mobile marketing company Ansible.

Nick Brien, the chief executive of Mediabrands, said: "Quentin will constantly examine investments and partnerships in digital areas such as mobile, search and social platforms.

"He is a true entrepreneur who will bring a new level of excitement and inspire changes in behaviour and enrich the thinking across the Mediabrands organisation."