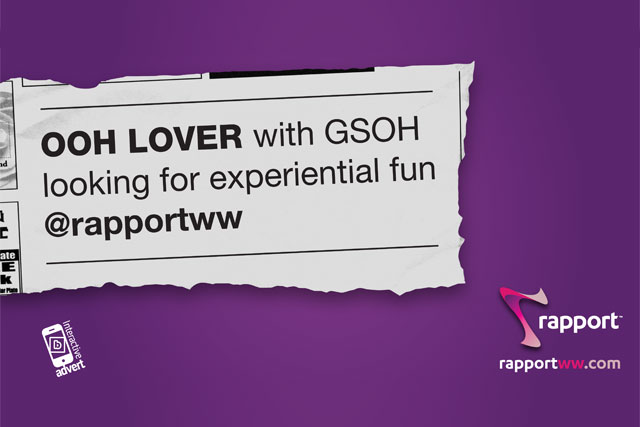 In addition to changing its name to Rapport, the agency has developed a new positioning it has called Rewarding Connections, which it believes encapsulates its commitment to building collaborative and successful partnerships.
The agency will continue to be based in London and there will be no job losses or changes to roles as a result of the rebrand.
Rapport will continue to prioritise developing its ability to provide new advertising techniques such as augmented reality and Near Field Communications.
The agency has a close alliance with the mobile image-recognition and augmented reality platform Blippar, which rents space in Rapport's offices.
As well as working on outdoor campaigns for clients of IPG media agencies Initiative and UM, Rapport also has a number of directly appointed clients such as BSkyB and Samsung.
The national outdoor ad campaign, with creative by Ouch Design!, will use the Blippar platform in a bid to interact with its audience and demonstrate how the agency is using new technologies.
Chris Marjoram, managing director of Rapport, said: "It is right that we are evolving the strategic route of IPG Mediabrands' out of home agency.
"With so many ways to connect in the social space, developing our direction in a way that benefits our clients gives us huge potential moving forward.
"Our clients will profit from us becoming Rapport and the agency is already feeling a rush of optimism associated with a change in proposition."
IPM was previously known by its full name International Poster Management. The outdoor agency is close to 25-years-old and was spun out of Western Media, part of the agency then known as Lowe.
Rapport's sister agency in the US is called Outdoor Advertising Group and is not affected by the rebrand.