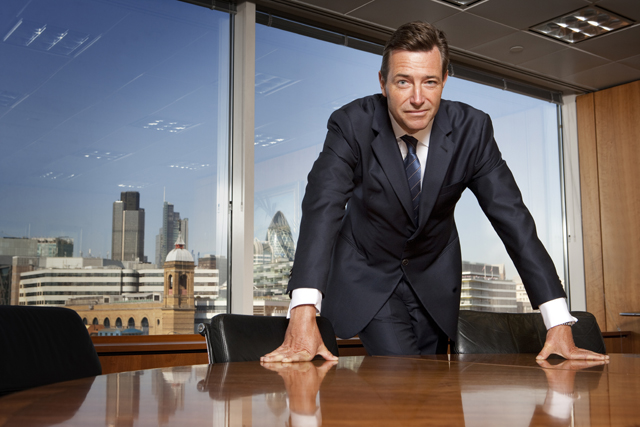 John Ridding is on a roll. Sitting in his sixth-floor office as the midday sun rises above him, Ridding enthuses about the FT's diversified revenue model and the power of its journalism. There is a discernable air of satisfaction as he speaks.
Last week the FT's digital subscriber base exceeded its print circulation for the first time. It is a significant milestone and one Ridding, who has been chief executive of the FT for six years, is happy to speak about at length. Well, until he has to head off to the board meeting at parent group Pearson at least.
"It's a big deal because it's happening in the context of growth," Ridding explains. "Obviously print volume is down but overall paid readership is up. We now have 600,000 people paying for the FT every day across channels.
"It's never been that high in 125-years of the FT. It's a growth story."
Introducing the paywall
When the FT introduced its first paywall in 2001 the market was skeptical. Commentators wondered if online readers would pay and if they should have to. The FT ploughed on and introduced the current model in 2007. Every 30 days, registered users can read eight news stories for free but if they want more they have to subscribe.
It seems to be working. Sales at the FT Group totaled £216m in the first six months of 2012, representing underlying year-on-year growth of 7%. Since Ridding became chief executive of the paper in June 2006 the division's adjusted half-year operating profits have increased by 69% to £22m during a time when quality papers have struggled.
The news that the Kardashians et al have helped Mail Online to make a profit "on a run rate basis" has not threatened Riddings' belief in paid content. He believes FT.com's success is not just because it is a "specialist premium" publication.

"Free news organisations can look big [Mail Online had 6.5 million daily visitors in May according to comScore] but they don't look so big when you put them up against Google [462.9 million] or Facebook [312.0 million]," he says.
"And that's who they're up against. It is very unlikely that advertising will support the kind of newsrooms that produce good quality journalism."
Ad revenue is "volatile" and press has been hit hard. Ten years ago 85% of the FT's revenue was from advertising. It is just 35%-40% today. The FT Group reported its ad revenue declined in the first half of 2012 after growth in online, luxury brands and personal finance was "more than offset" by declines in trade and recruitment.
Just as the FT has adapted how it makes money from content, its ad sales team has modernised. "You're never going to get a cover wrap like at the Metro, or The Sun now, but they're a lot more flexible than they used to be," says one trader who asked not to be named. "We have a joint print and online deal and they're good for a target audience."
Ridding explains the FT's digital subscribers, as opposed to people who pick up a paper on the way to work, voluntarily provide demographic data allowing targeted and accountable online ads. In addition, the FT can check what they are reading and how long they are reading it for, helping the editorial team to see what is working (and what is not).




Digital is not just about desktops but increasingly portable devices. Fifteen percent of new subscriptions are through mobile and Ridding was behind the decision to pull the FT's main app out of Apple's App Store. Sick of paying Apple 30% of revenues and loosing all that rich data, the FT made a web app using HTML 5 with the developer Assanka.
In a statement of intent, the FT bought Assanka in January this year and a second version of the app is understood to be in development. The idea is to be everywhere its readers are and the FT also has an Android version of the main app and an iOS (Apple) version of the How to Spend It magazine.
For all the talk of new formats, revenue models and flexible ad sales, everything rests on the quality of the journalism from the FT's 600-strong team. Although the FT has emerged unscathed from the Leveson Inquiry it has not been immune to other pressures. This year there has been an aborted strike over pay settlements and accusations of bullying.
Ridding is not afraid of making unpopular decisions but colleagues describe him as a "decisive, clever man". He was in reporting and writing roles at the FT for 10 years before making a quick ascent through deputy managing editor, managing editor, deputy editor and then publisher and editor of FT Asia in 2003.
Crashing the FT yacht
Despite being an editorial man, Ridding has an understanding of the power of marketing. In 2003 the FT wrapped Hong Kong's tallest skyscraper to celebrate its recently launched Asia edition – something the execs from rival Wall Street Journal could see from their hotel when they held their board meeting in the city.
Ridding is also said to have been on the FT-branded boat which crashed into the Sydney Opera House in 2004 and reinforced the idea that there is no such thing as bad publicity.
No stranger to Asia, Ridding's parents lived in Kuala Lumpur, Singapore and Hong Kong when he was a child. He went to the liberal boarding school Bedales (now known for educating the children of rock stars and actors) before reading PPE at Oxford (he got a first). He declines to comment on his private life but is believed to have a young family.
A keen sportsman, Ridding enjoys surfing and running and has a "love-hate" relationship with Leeds United, like many of their fans these days. Known for his charm, Ridding is said to be popular with female colleagues at FT Christmas parties and he is liked so much at the Wright Brothers Oyster & Porter House in Borough they named a dish after him (Ridding smoked mackerel pâté).
You have to wonder, with his obvious strengths and abilities and at only 47, what is next for Ridding.
He reports to Rona Fairhead, the former Pearson chief finance officer who became chief executive of FT Group (which includes intelligence service Mergermarket and 50% of The Economist) when Ridding was promoted.
After selling off market intelligence firm IDC and shares in other newspapers (such as Les Echos and FT Deutschland) the division is a lot smaller than it once was. Although Fairhead, who is thought to be on leave, also heads Pearson's professional and careers business it is easy to imagine one of them might move on.
It is said that Marjorie Scardino, Pearson's 65-year-old chief executive, dislikes her divisional commanders to be high profile and dislikes talk of a succession plan even more. Despite this Ridding and Fairhead must be prime contenders, alongside Penguin chairman and chief executive John Makinson, to replace her when the time comes.
The 'silver lining' of the financial crisis
For the moment Ridding is dedicated to the FT, which is having a renaissance of late. "If there is a silver lining of the Euro crisis and the global economic crisis it is that it's a story that plays to all of our strengths," he says.
"It's global, it's serious, it's business, and it's financial. It's everything that we've been set up to report and analyse. You can see that whether it's the coverage of the Libor affair or the series that we ran a while back on capitalism in crisis.

"This is our story."
After six successful years as chief executive Ridding has transformed the FT's business so it can take full advantage of the stories to be had in one of the most tumultuous periods of recent times.
The FT has moved on from the "existential crisis" facing the rest of the news media industry into what Ridding describes as an "execution challenge".
Now Ridding knows the strategy is working will the operational phase be enough to placate him? He gives no indication he is looking for another challenge yet you cannot help wonder if it might just come looking for him.
The Lowdown
Age: 47
Favourite media: FT, New Yorker, Wired, Ted
Favourite gadget: iPod
Favourite music: Duke Ellington, Gil Scott Heron, Rolling Stones
Last book read: 'Stealing the Wave' by Andy Martin
Interests out of work: music, reading, running, swimming, surfing

Education
Bedales School, Hampshire
University College, Oxford

Career
1987-1988: Oxford Analitica consultancy
1988-1990: world desk, FT
1990-1991: UK companies reporter, FT
1991-1994: Korea correspondent, FT
1994-1995: deputy features editor, FT
1995-1998: Paris correspondent, FT
1998-1999: deputy managing editor, FT
1999-2000: managing editor, FT
2001-2003: deputy editor, FT
2003-2006: publisher, FT Asia and chairman, Pearson Asia
2006-present: chief executive, FT
Follow @MaisieMcCabe