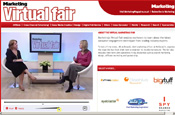 Visitors can take a virtual tour of the site and watch specialists discussing key areas of marketing techniques such as search marketing, digital video ads, online search panels, affiliate marketing, mobile marketing, design, marketing consultancy, ethnic marketing and sponsorship.
The keynote speaker is Jill McDonald, chief marketing officer at McDonald's, who explains the steps the restaurant chain took to engineer its incredible turnaround. The interview can be viewed at marketingvirtualfair.com.
Visitors can also use the microsite to book face-to-face interviews with any of the 12 exhibitors.