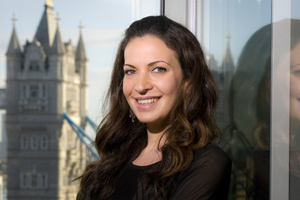 Zanine Adams, head of event solutions and UK sales for London & Partners, was one of just 20 female faces in our Event 100 Club 2012. As part of next month's special report on women in events, she spoke to Event about gender equality in the industry.
Why do you think there are only 20 women in the Event 100 club?

I think the Event 100 Club isn't a completely fair representation of an industry that is so diverse and far-ranging. Perhaps this is due to 2012 being such an unusual year – reflected by the fact that the larger agencies, venues and huge event companies along with the likes of the incredibly talented Danny Boyle were on the list. The industry isn't just about big venues and agencies – it's about logistics companies, creative event designers, events services and all those niche creative agencies.
I do think women shy away from 'chest beating', though. We aren't as comfortable to blow our own trumpet and celebrate our successes – which is something which I hope will change. With my own work with London in 2012, I was really supported by both the industry and my employer to communicate success. I hope other women in senior positions will carry on doing that.

Has being a woman helped or hindered your career?

I would say it did hinder my career in the early days within the hotel and hospitality side of the industry. But I think the events industry in general has made some pretty big leaps in the last 15 to 20 years. Being the first women in a decade to be ISES president definitely helped – it was a benefit to be different and I think many women in the industry started to move to roles which were more influential, meaning more opportunities and more voices being heard. I certainly think we are now in a place where it's not about the sex of a person but about their skill and talent.

How does the event industry compare to other industries when it comes to gender equality and opportunities for women?

I believe the events industry is much more flexible and dynamic then many others, such as the financial or IT sectors. We're an industry that evolves, because the people within it are supportive and innovative. The events sector has a very important role to be a 'spearhead industry' in a much larger global issue about women in business – if we really set our minds to it then we could lead by example. By finding those talented women who are there (and always have been) and giving them a voice, then I think we could truly make some powerful changes.
What can be done to get more women into influential positions in the industry?

More needs to be done by the events media to give women a voice. There is a huge amount of female talent out there in senior management roles, but because they aren't the managing director they don't always get the chance to be the 'voice' for their company. Employers should ensure they have a variety of spokespeople – both male and female, from different backgrounds and levels. More also needs to be done by employers to harness the talent in their company. Succession plans must allow the best people – both male and female – to be given the right training to become senior management with a view to managing director.
Want to chat about women in events? Comment below or tweet with the hashtag #WomenInEvents.
Read the full special report on women in events, along with the results of our online survey, in the February/March issue of Event by subscribing here.
Follow @LouiseRidley