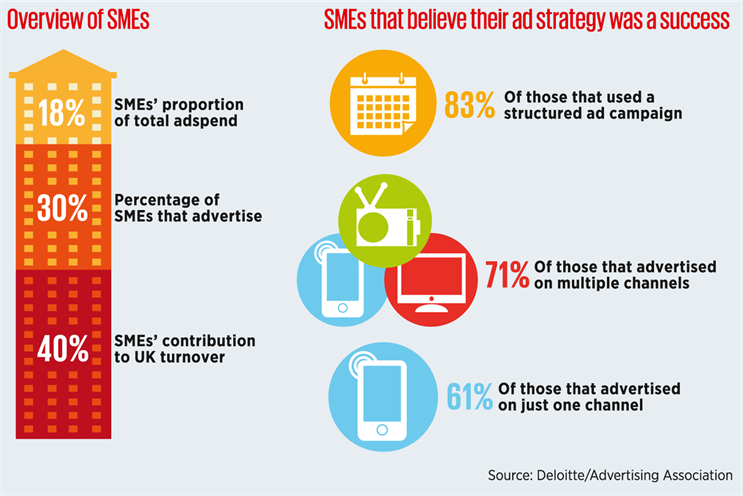 Advertising Pays 2: How Advertising Can Unlock UK Growth Potential, by Deloitte on behalf of the Advertising Association, shows that, although SMEs account for 50 per cent of jobs in the UK and 40 per cent of revenues, they represent just 18 per cent of total advertising spend.
The report's analysis concludes that the 30 per cent of SMEs that do invest in ads are far more likely to benefit, with every £1 spent having eight times the relative impact on growth as that invested by larger companies.
The report also finds that if SMEs in the UK raised their export performance to just the European Union average (from 19 per cent to 25 per cent), it would be worth more than £40 billion to the UK economy.
Cash flow and the perception that advertising is too expensive are cited as major barriers for such businesses. But the report also recognises that additional support from government and industry would help them to advertise more effectively.
SMEs interviewed for the report most wanted help in managing the short-term costs of advertising, more practical advice and support on both domestic and international marketing, and a clearer route to existing support – numerous schemes already exist but often go unnoticed by businesses.
Andy Duncan (pictured), the president of the Advertising Association, said he hoped the report would "inspire not only those running SMEs but policymakers and everyone in agencies, brands and media to reconsider their role in allowing advertising's power to unlock growth in UK businesses".