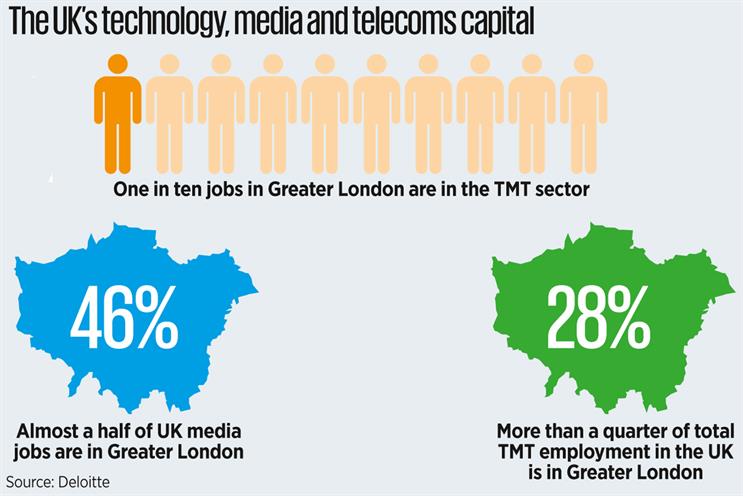 Enabling A World Leading Digital Hub, produced by Deloitte, shows that UK technology venture capital investment is just one tenth of that in Silicon Valley.
In addition, technology deals are valued at £40 million in the UK, compared with £160 million in the US.
The report states that London is a world-leading media hub, with the TV, publishing and advertising industry together generating more than 6 per cent of the UK economy's total exports. It adds that around half of UK media employment is in the capital.
The publication also reiterated Deloitte's assessment that the advertising industry adds an estimated £100 billion a year to the UK economy, as revealed by a previous report in January, and helps to bring new innovations to market and encourage competition.
For London to take advantage of digital opportunities, Deloitte says there needs to be greater investment to plug the funding gap of between £500,000 to £4 million that interviewees reported.
The report adds that there must be greater collaboration between businesses and universities, and that people with both creative and technology skills should be nurtured.
Ed Vaizey, the Culture Minister, said: "This is why government is investing in initiatives like the £16 million Skills Investment Fund and the £150 million Super-Connected Cities programme, which will equip our sectors for the future, and continue the valuable fusion of creative and technology skills."
Jolyon Barker, Deloitte's global managing director, TMT, stressed the need for the financial sector to support the technology industry.
He said: "The foundations of London's digital potential are already in place. The London media and creative industries are a hive of talent and inspiration, producing print, broadcast and online content that are consumed and recognised globally."