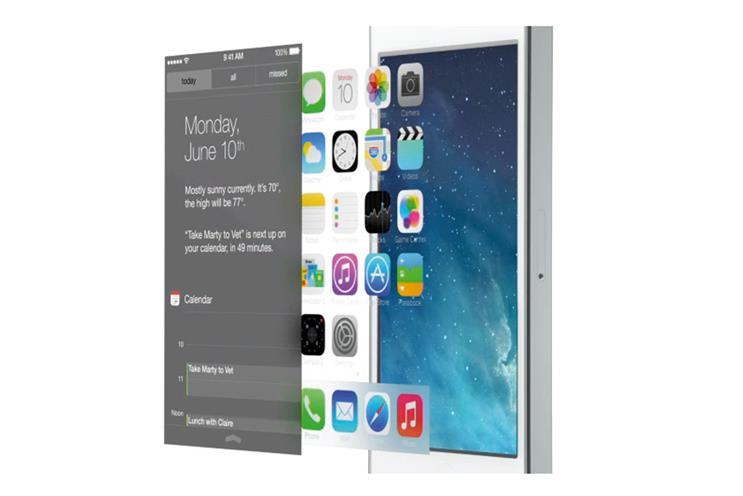 For many iPad and iPhone users, the long wait came to an end earlier this month when Tim Cook revealed what the next iOS version will look like in his keynote presentation to Apple's WWDC 2013 conference in San Francisco.
As expected, skeuomorphism is no more and is, instead, replaced by a "flat design" approach. Not only is the user interface refreshed, it also brings new gesture-based features that are similar to those on other mobile platforms, such as control centre, multitasking app preview and e-mail peak.
It is still early days to identify all the new opportunities that will interest marketers from the 1,500 new APIs and countless new iOS features available to developers. But, from the presentation last week, we can already see three new features that will offer brands new types of consumer engagement: Near Me, iBeacons and app UI refresh.
In iOS7, Apple is adding more geolocating features, such as a Near Me filter and an iBeacons API. Near Me is effectively a new type of filter that will allow app publishers to push their app based on the user's location – for example, pushing a train timetable app if the user is at a train station. Probably a more exciting location-based marketing opportunity is iBeacons, which allows users to be micro-located against a physical tag, which is great for areas where GPS connectivity is poor (indoors, underground, in planes etc).
With the overhaul of the core iOS experience that will be released to the public in the autumn, apps that don't update the look and feel to align with the new user interface will quickly seem old and out of date. This represents a great opportunity for brands to not only refresh their apps, but also introduce some of the features made available through the new iOS7 APIs.

Gregory Roekens is the chief technology officer at Abbott Mead Vickers BBDO