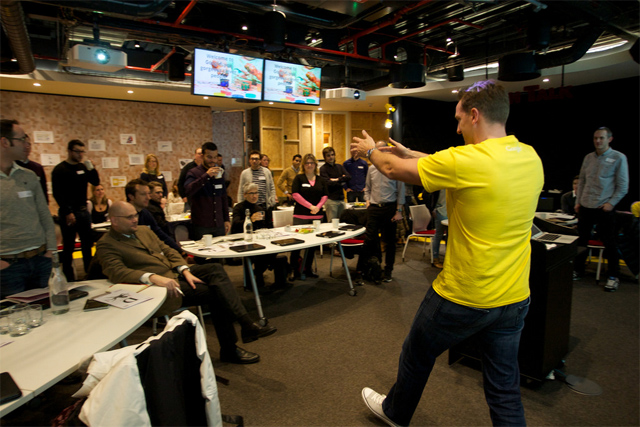 Google makes 550 changes to its search business every year – more than 10 a week – UK country head Mark Howe told delegates at the third AdaptLab session on data and creativity hosted by Google yesterday (5th February 2014), as part of IPA President Ian Priest's Diversification Adaptathon.
"This change is constant," Howe said, "and it's mind-blowing. It's the same for agencies too: how they work is more complex and changing, and how they get remunerated for it. And I don't think the industry has got it right yet."
Google and other digital companies, Howe said, had the tools to help agencies and clients look closely at what the consumer is doing and help brands adapt to that.
"We support Ian Priest's ADAPT agenda because it will drive commercial creativity and commercial media creativity, and lead to the right results for clients and the right payments for these results."
From data to insight
The key to unlocking insight, according to Kirk Vallis, head of Google BrandLab in Northern Europe, was to find "provocation and stimulus that allowed new ways of thinking." Without it, he said, people will be stuck thinking the same way.
As Niall Fitzgerland, former Unilever CEO put it: "data makes your briefcase heavy – insight makes you rich."
Here is Vallis' insight into insight:
Insight can come from either data or a hypothesis.
The process is like a merry-go-round. You can start with a hypothesis and use data to test it; or start with data and look for a hypothesis.
Repeat this until you've got something juicy to work with. Then get off the merry-go-round.
The process is non-linear and the relationshiop between data and insight is non-hierarchical.
Google's Project Loon, an attempt to provide internet access to remote parts of the world via helium-powered balloons, was born from data.
Google Glass started with a hypothesis: could Google find a way that allowed people to stay constantly engaged without always having to look down at a phone?
Gathering data
Author John Batelle said "Google was a database of people's intentions", noted Paul Guerrieria, Google's UK agency team manager.
As such, Guerrieria said, "it was the biggest and most honest focus group."
Google has range of easy and free to use data tools:
Search activity
Google Trends
Trends for Marketers
Consumer Barometer
Our Mobile Planet
All found at Google Think Insights
Data tools, however, are not the same as insight tools, Guerreiria warned. To the data, you needed to add a planner with intuitive and interpretive skills.
Get with the macro and the zeitgeist
As well as granular information, data could be used to follow macro – longer-term, or cyclical shifts – and zeitgeist trends about what is hot now.
Two clients that had taken advantage of macro trends, noted Alison Lomax, Google's industry head for creative industries, were L'Oreal and Unilever.
1. L'Oreal saw from data that dip dyeing was popular. Its insight was that there was no homecare solution to dip dyeing. It developed and launched the Ombre product (http://www.loreal-paris.co.uk/_en/_gb/minisites/dip_dye_hair_wild_ombres/product-info.aspx). Ombre hair searches then rose faster and higher than dip dye searches, giving birth to the verb 'to ombre'.
2 . Unilever analysed haircare search, and realised that although there were millions every day, no brand owned the space. It developed the All Things Hair channel and social media sites as a destination point for consumers from which it could build a relationship and market its products. Working with video bloggers and social media talent has made it feel more authentic and credible.
Zeitgeist trends pick up online hotspots. To take advantage of them, Lomax said, "brands need to keep their fingers on the pulse and be agile enough to respond quickly. But not a lot are and it's a missed opportunity."
The YouTube trends service is a useful tool and a way to spot memes like the Harlem Shake or the sudden craze for screaming goat videos and searches turned into an ad by Doritos
Test and test again
Agencies and brands should not underestimate the value of testing, noted Vallis. It was better to build the right 'it' than build it 'right', he said.
Testing is a continuous, iterative process, and part of the data-hypothesis merry-go-round.