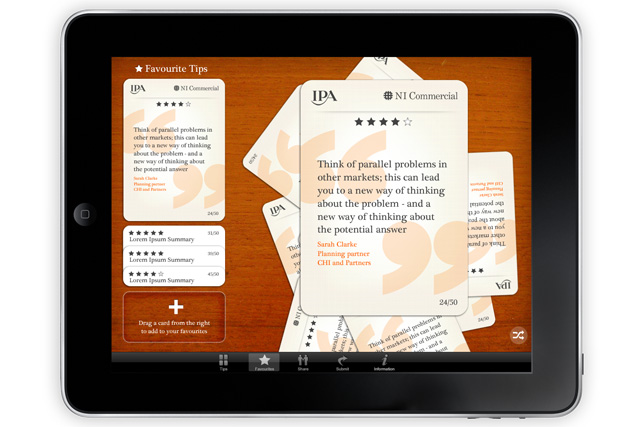 I have long been inspired by Charles Leadbeater's seminal book We-Think: The Power Of Mass Creativity. In it, he puts forward his belief that we are what we share. He says: "In the 20th century, we were judged as individuals by what we owned, our material possessions. In the 21st century, we will be judged both on what we produce and what we share."
Leadbeater sees technology as the key driver behind this - specifically, the internet. He says: "The web matters because it allows more people to share ideas with more people in more ways. Our capacity for collaborative creativity will become even more powerful because the opportunities to engage are expanding. The generation that has grown up with these ideas will have 'we think, therefore we are' as its motto."
"We are what we share" is a mantra that the planning community has taken up with perhaps more alacrity than other discipline. Starting in 2006, with the advent of planner-bloggers such as Russell Davies, Richard Huntington, Faris Yakob and Beeker Northam, ideas were shared in a manner and on a scale previously impossible. Yes, there were bloggers from other disciplines, but it seemed that this approach to creativity and innovation was perhaps better suited to planners. It was a new way for planners to mull over early formed concepts, stress-test theories and build on fledgling lines of interest and discovery.
In his new book, We First: How Brands And Consumers Use Social Media To Build A Better World, Simon Mainwaring takes Leadbeater's concept and moves it on. He talks about the rise of a new form of capitalism. Capitalism that is still concerned with profit, but capitalism that thinks long-term and for the greater good of the community, as opposed to the "winner-takes-all" mentality. Mainwaring talks about "we-first capitalism", not "me-first capitalism". I believe this principle is applicable to the world of advertising, and that we are witnessing the birth of "we-first planning" and the death of "me-first planning".
When I took over as the IPA Strategy Group chair, we-first planning was something at the front of my mind. One of the first things the group looked at was Guy Murphy's "Fast Strategy" playing cards from 2008 - packs of strategy tips from the great and the good of adland. We wanted to modernise, socialise and globalise the concept, so we developed the world's first iPhone/iPad app for the adland strategy community.
The brief was simple: give us pithy, actionable tips that help to reframe a problem that has hit a roadblock. Not only do we have tips from the likes of Jeremy Bullmore, Nicola Mendelsohn and Dave Trott, we also have tips from up-and-coming planners such as Thom Dinsdale from M&C Saatchi. It's the power of the insight and the intelligence of the tip, not the title on the business card, that matters on this app.
We had a number of debates before the app went live. Concern was raised about the public rating and ranking of tips. If people were giving up their time to give us a tip, surely we should not expose them to the ignominy of having a one-star rating? In the end, we decided that the reality is that we live in a transparent world and this kind of public opinion is something that we all have to get used to. We also debated the issue of quality control. Was it against the spirit of the we-first planning to cherry-pick tips? It was decided that anyone can upload a tip, but it is the responsibility of the Strategy Group to pick what they considered to be the most original and thought-provoking ones.
The IPA's first foray into the world of branded mobile apps has been a huge success. To date, we have had more than 4,600 downloads from 24 countries, including places as diverse as the United Arab Emirates and Slovenia. To put that figure into context, it saw the app climb to number six in the business download chart.
For the next phase, we are looking to move the app outside the advertising community. Our first update will have tips from the likes of the journalist Matthew d'Ancona, Ashley Highfield of iPlayer and Microsoft fame, and Carolyn McCall, the chief executive of easyJet.
It is now over to you. In Apple's App Store is the digital manifestation of we-first planning. The Fast Strategy app is free to download (http://tinyurl.com/faststrategy), easy to share via Facebook and Twitter, and it's simple to upload a tip. Me-first planning is dead. Long live we-first planning.
Amelia Torode is the head of strategy and innovation at VCCP.