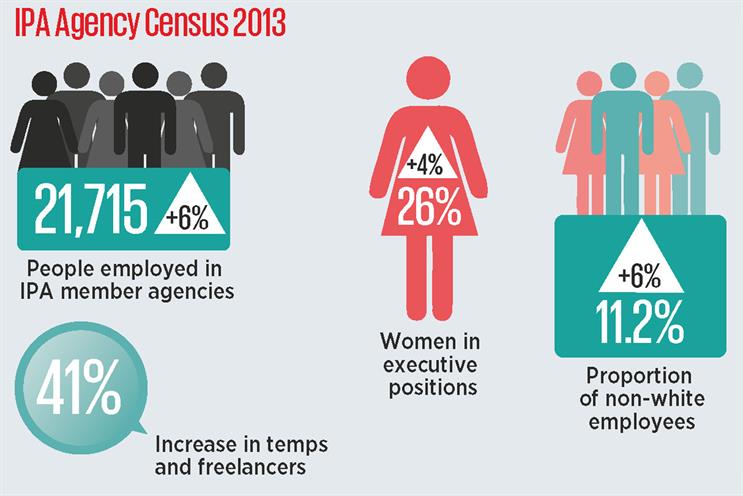 Women make up 26 per cent of those in executive positions in agencies, up from 25 per cent in 2012, according to the latest IPA Agency Census, which was released today.
Karen Blackett, the chief executive of MediaCom UK, said: "This is not a significant change. We're getting there but things still need to be better. There needs to be enough role models for employers to see that working women can deliver. The old traditional thinking will eventually be eroded as the messages get through."
The annual survey of media, advertising and marketing agencies revealed that the proportion of non-white people in agencies also shifted slightly from 10.6 per cent in 2012 to 11.2 per cent this year.
Saad Saraf, the founder of the Think Ethnic marketing forum and the chief executive of Mediareach, said greater representation was needed in client-facing roles: "People from ethnic backgrounds tend to be well-represented in the digital sphere, but the litmus test is client-facing roles and senior board positions."
Paul Bainsfair, the director-general of the IPA, said that he was encouraged by the findings. He added: "We are moving in the right direction on diversity, although there is further to go here. It's pleasing that the number of women in executive positions continues to rise."
The data also showed a 41 per cent jump in the number of temporary workers and freelancers working regularly in agencies, to 1,898. The figure is more than double that
of 866 in 2009.
Matthew Charlton, the chief executive of BETC London, warned that the rise reflected a shift towards "short-termism".