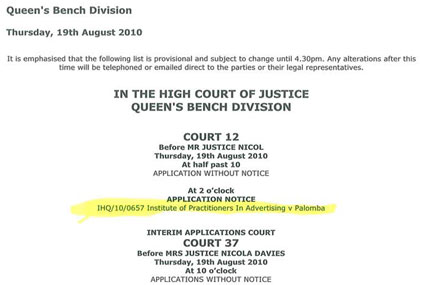 Details of last Thursday's events remain under wraps thanks to legal restrictions, but Campaign is allowed to report that the IPA's application against Palomba was dismissed with costs.
The IPA's action against Palomba follows her departure from the IPA in December. She has since launched a marketing practice at the legal giant Reed Smith and has been joined by two former IPA colleagues.
Since her departure, the IPA has struggled to rebuild its in-house legal team. In April, it appointed Elaine Hutton as its legal director, but she left after just two months.
The IPA then drafted in the law firm Lewis Silkin to deal with legal enquiries from its members but is attempting to recruit its third legal director in less than a year.
Hamish Pringle, the IPA director-general, said it was "very close" to appointing a legal director and a senior legal manager to provide support to members.
Pringle and Palomba declined to comment on the court case.