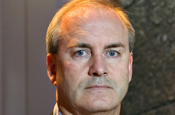 But there are fears that the workforce will slim dramatically.

A total of 20,131 people were working in 272 IPA member agencies last September, the report revealed.
This is the highest figure recorded since 1960, the year in which Collett Dickenson Pearce, one of the UK's most iconic agencies, was launched.
The numbers are more than 1,000 higher than in September 2007 but are partially accounted for by 11 more agencies having joined the IPA.
However, staffing levels in the near future are unlikely to be anywhere near as healthy as agencies introduce hiring freezes and the industry braces itself for significant job losses during the first quarter of this year.

Hamish Pringle, the IPA director-general, said: "With the headlines we've seen over the past few weeks, we expect 2008 may be remembered as a peak year for agency staff levels."

The Census, based on responses from 140 IPA agencies, shows that the workforce remains almost equally split between men and women. But most senior positions remain a male preserve.

An estimated 84 per cent of chairmen, chief executives and managing directors are men, and just 16 per cent are women.

In addition, the industry remains overwhelmingly a young person's business. An estimated 47.6 per cent of agency staff are 30 or under. Just 5 per cent are over 50.

Although progress is being made towards creating a more ethnically diverse workforce, it remains slow.

Returns from 95 agencies indicate that those from non-white backgrounds account for 8.4 per cent of employees.

In 2007, the figure was 5.9 per cent in 67 agencies.

The industry continues to rely heavily on temporary and freelance staff.

There were more than 1,200 of them working in agencies as of last September, almost 38 per cent of these being employed by creative departments.