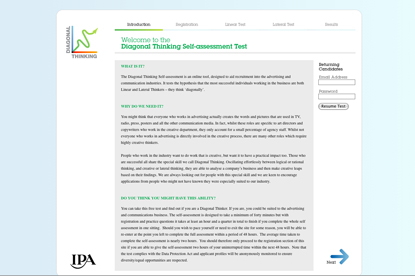 Almost 7,000 people have taken the test, which claims to identify the linear and lateral thinking styles and personality traits characteristic of those people who do well in advertising.

Seven per cent of them said success in the test had enabled them to land a job.

However, IPA executives admit it has been a struggle to persuade agencies to take such success into account when selecting potential staff.

"We've a long way to go to get our member agencies to incorporate a Diagonal Thinking qualification into their selection process," Hamish Pringle, the IPA director general, said.

"They may think those processes are already onerous enough but the fact is that this would improve them further. Just 10 per cent of the population are diagonal thinkers."

Meanwhile, a report on the first year of the project shows that despite efforts to make the industry's workforce more diverse, 66 per cent of those taking the test registered as white British. Many had also attended an elite university.

"When it comes to diversity there's a long way to go," Pringle acknowledged. "But there's a limit to what can be done until the ethnic profile of the top universities changes."