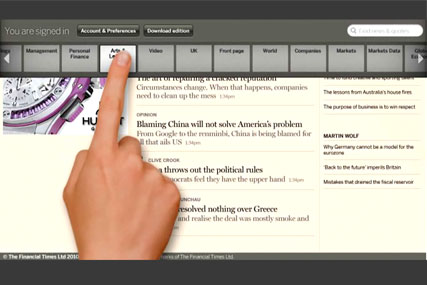 Accordingly, there are myriad brands making their iPad apps available today, including Sky, the FT and Marvel Comics.
Unsurprisingly, and in keeping with hopes that the iPad can turn around the fortunes of the media industry, many of the apps entering the market are from publishers.
Marvel Comics has tapped into the hype, with a free app that enables comic-lovers to download and read their favourite titles.
News International has created an iPad app for The Times and The Sunday Times. The publisher has been talking to media agencies about the ad opportunities the app offers.
Sister company Sky has also got involved with a Sky Mobile TV app, which gives user access to all sports channels and Sky News, and costs £6 a month for exsting Sky TV and Sky Player TV customers who have Sky Sports, or £35 a month for all other customers.
Other notable brands that are tapping into the hype include Scrabble, which has launched a touch-screen version of the classic boardgame, and a version of Etch-A-Sketch.
Technophile Stephen Fry has launched an app version of his blog and, in a deal with his publisher Harper Collins, is launching animated readings of Oscar Wilde. Meanwhile BMW and Ministry of Sound have also launched apps.
Earlier this month, The Financial Times released details of its iPad app, which takes its navigational lead from the FT.com, rather than the newspaper.
It also features a channel of video editorial presented in 16:9 HD quality footage. It costs nothing to download the FT app and users can read 10 articles per month for free; but a standard package costs £171 a year, while the premium package costs £260.
Other apps include an e-book version of Alice in Wonderland featuring animations that respond to the movement of the tablet, free-running video game Mirror's Edge, and Magic Piano, a piece of software developed by iPhone favourite Ocarina that enables the user to use the iPad's touchscreen like a piano.
Early adopters formed long queues outside Apple's Regent's Street store in London last night and into the early hours of this morning, hoping to be some of the first to get their hands on the first UK official iPad.
The iPad will be available from Currys and PC World as well as through Apple's own stores.
The iPad is selling at a starting price of £429 for a basic model, up to £699. It has sold more than a million units in the US in its first month.