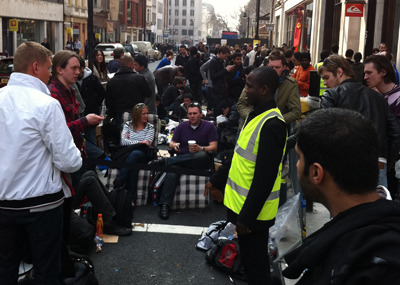 The fervour for the latest release from the only technology company with cult-like status has created lines of shoppers eager to get their hands on the tablet device.
One fan was reported by Metro this morning to have been outside the Flagship Regent's Street store in London's west End for 33 hours prior to the 5pm deadline.
He was even prepared to miss his son's birthday to make sure he was first in line.
Apple's iPad 2 launches in the UK and 24 other countries today, with a recommended retail price of £399 including VAT for the 16GB model and £659 for the 64GB model with 3G.
Since its launch last month in the US, the iPad 2 has been a runaway success. Retailers are reportedly selling out of the tablets, despite increased competition from Android-based tablets such as the Motorola Xoom.
We put a call out on Twitter in the last ten minutes for our readers to send in images of the hordes prepared to part with their cash. Below are just a few of those sent in. See @BrandRepublic for more.
Regent Street, London (@Darren_Ruback)
Regent Street, London (@SpreadingJam)
Covent Garden, London (@sashasa)
Cambridge (@MrNeilB)
And thanks to agency Jam who hit the streets earlier to grab some footage of shoppers waiting in line.