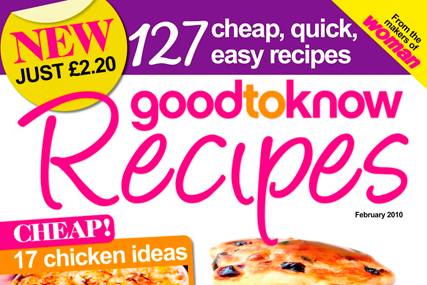 The new title is priced at £2.20 and is available at newsstands from today.
Goodtoknow Recipes targets mums aged 25 to 44 and offers tips and advice on how to cook for a family cheaply and healthily. As well as recipes, the title offers weekly meal plans.
The title is a spin-off from the IPC online portal for women Goodtoknow.co.uk and follows the launch of the site's new recipes channel last month.
Goodtoknow publishing director Oswin Grady said: "There is a major gap in the magazine market for a practical food magazine for mass-market mums.
Our experience with goodtoknow online has given us a very clear picture of what they are looking for in a magazine and goodtoknow Recipes is the perfect complement to our hugely successful site for busy mums."