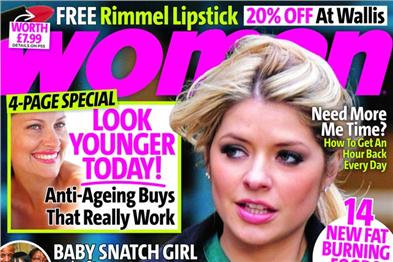 The agency won the account following a three-way competitive pitch.
Work for promoting the new-look Woman title will begin next month. The title will introduce more fashion and wellbeing content as the title has suffered sales figures recently due to the economic downturn which has led to a reduction in repertoire and frequency of purchase in this sector, the managing director of IPC's women's weekly unit, Fiona Dent, recently said.
The title has traditionally focused on celebrity news, real-life stories and diet advice, targeting 'busy mum and housewives, aged between 25 and 45,' according to IPC.
The magazine sold an average on 309,878 copies for the six months to December 2010, which saw a 2.6 per cent drop period-to-period and a 2 per cent fall year-on-year.
MediaCom handles Woman's media planning and buying account. In the past IPC Media has worked with VCCP for Woman magazine.
In 2008, Woman underwent a makeover and 18 months before that, the magazine resized in a larger format and increased its cover price.