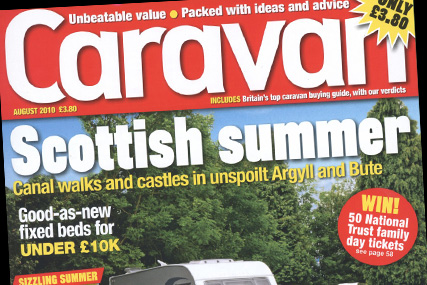 Warners will acquire the brand – currently published within the IPC Inspire portfolio – from today, with no interruption to the publishing schedule of the title. Staff will transfer to Warners with immediate effect.
Warners is a specialist magazine publisher and printers, publishing more than 30 consumer and B2B titles. The publisher already produces Caravan Motorhome & Camping Mart and Camping magazines.
IPC Inspire managing director Paul Williams said: "Warners is a publisher with a broad range of outdoor leisure and hobby titles, as well as a leading motorhome show in the outdoor market. It's the ideal home for Caravan.

"The Caravan team has continued to do a superb job during the strategic review process, for which I would personally like to thank them. I wish them all the very best for the future."

Last Friday IPC sold two of its specialist titles, Model Collector and Stamp Magazine, to publisher MyHobbyStore.

The publisher is currently finalising a deal to sell magazines World Soccer, Racecar Engineering and Classic Boat to Chelsea Magazines following weeks of negotiations.

Last month IPC also sold monthly music magazine Guitar & Bass to Anthem Publishing and last week it completed the sale of its internet title Web User to Dennis Publishing.

On Wednesday last week IPC confirmed it had sold MiniWorld, Ships Monthly, Park Home & Holiday Caravan, and Aeroplane to Kent-based Kelsey Publishing, which has also recently acquired Cage & Aviary Birds from IPC.
IPC reported a 37% drop in pre-tax profits for the year to 31 December 2009.