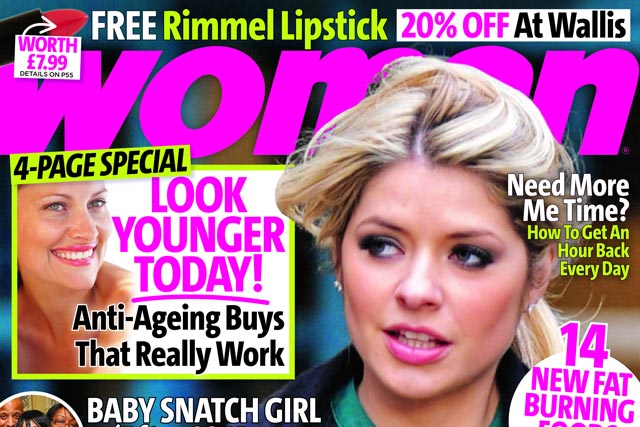 Woman, a traditional women's weekly that features celebrities such as Katie Price on the cover, and includes real-life stories and diet advice, currently targets "busy mums and housewives, aged between 25 and 45" according to IPC.
The publisher is understood to be considering a soft refocus, chanelling more "credible fashion" and women's wellbeing, according to sources.
The project is being led by management at IPC Connect, IPC's weekies division.
Sue James, editorial director at Woman & Home, is understood to be advising heavily on the title's new look, which will continue to be edited by Karen Livermore.
One source said: "IPC is investing in the magazine and making the fashion and features much more credible."
Woman has undergone several makeovers in the past few years – one in February 2008 and one 18 months before that, which have seen it resized in a larger format with its cover price increased to 90p (now 92p).
It is understood that as part of the revamp, the editorial team is to be restructured, with editors being moved around to take on newly created sections.
An IPC Media spokesperson said: "At IPC, the consumer is at the heart of our business and we regularly review our brands to ensure they deliver to their audiences."
Woman sold an average of 309,878 copies for the six months to December 2010, a drop of 2% year on year. The title has been multi-packed alongside other IPC weeklies Now and Woman's Own in the past six months.
IPC has recently restructured its advertising team around Kate Mackenzie, previously the ad director at IPC Weeklies, who has been promoted to the new role of trading director, reporting to IPC Advertising's managing director Charlie Meredith.