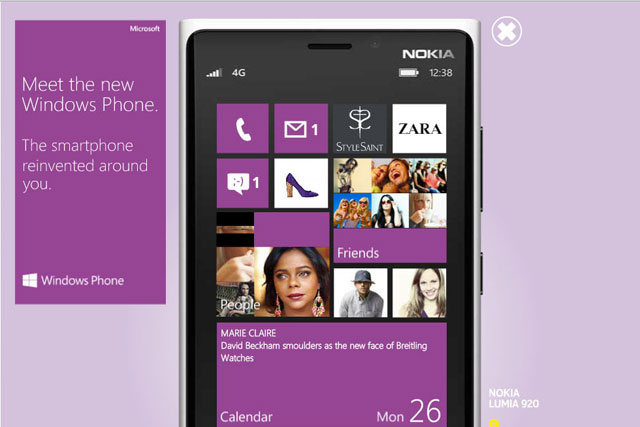 This marks the latest advertising support by Microsoft behind the range of phones, following the TV ads, starring James Corden and Holly Willoughby, which ran in November.
The campaign, created in-house, will run across online, print, mobile and e-newsletters. It kicks off this month and will run until April next year. The size of the deal is unclear.
Universal McCann planned and bought the deal.
Print activity will include a series of advertorials, which will show Marie Claire editors "styling up" their Windows Phones to suit their passions.
The mobile element of the campaign allows consumers to transform their smartphone screen to that of a personalised Windows Phone.
Central to the online campaign will be activity running on www.marieclaire.co.uk, which will include its first page morph, in which IPC's creative unit worked with ClickTag.
Visitors to the fashion channel will see the homepage fold into the background, to be replaced by a Windows Phone ad.
The website will also run tailored ad units, which will feature Microsoft brand ambassador Holly Willoughby.
Follow @johnreynolds10