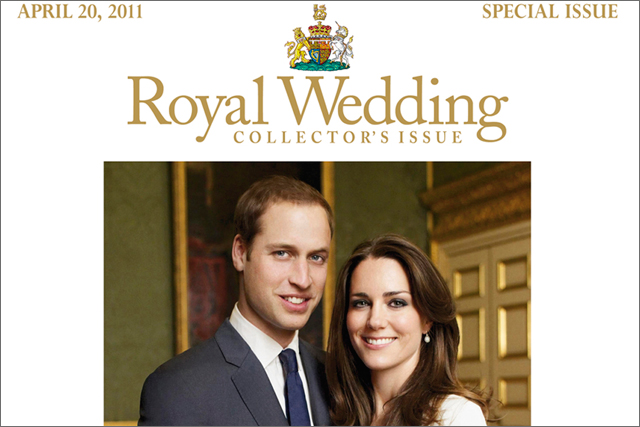 The special issue of the weekly title, which has been going since 1897, hits newsstands this Wednesday (20 April) with an embossed cover. Out of its 328 pages, 208 have been set aside for advertising.
Country Life has produced a number of Royal Wedding special issues since it began, including the Queen's wedding in 1947, when the magazine cost three shillings.
The magazine has also marked the unions of Princess Anne and Mark Phillips in 1973, Princess Diana and Charles in 1981 and Prince Andrew and Sarah Ferguson in 1986.
The issue will include a behind-the-scenes look at the uniforms that will be on parade on the day as well as a feature on wedding dresses through the ages.
Advertisers in the issue, which features a stock engagement photograph of the couple on the cover, include Davidoff cigars and private banking firm Investec.
Jean Christie, Country Life's publisher, said the print run for the collector's special has been "significantly increased".
Christie said: "We are very excited about this issue because it is a weekly magazine and yet we have 330 pages and over 200 pages of advertising.
"It is the largest issue since Princess Diana got married. Country Life celebrates everything that is British and advertisers appreciate the quality of response they get from our readers".
Last week it was revealed that Hello! magazine is prepping its biggest issue in its 22-year history for a special Royal Wedding issue to go on sale Sunday 1 May.