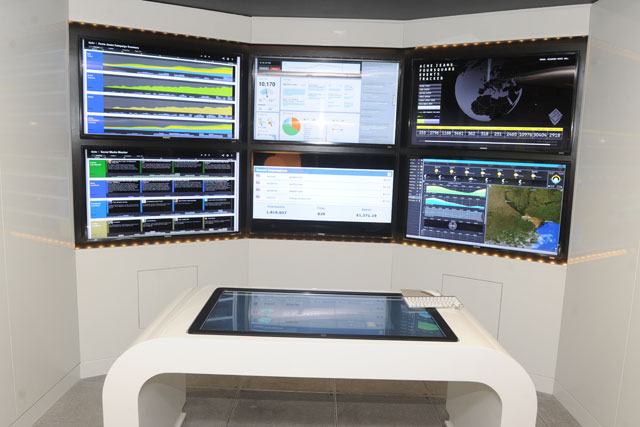 Another month, another impenetrable announcement arrives from a New York holding company apparently trumpeting an important media innovation that is somewhat clouded by meaningless jargon.
IPG Mediabrands has launched IPG Media Lab - an "immersion and exploration centre dedicated to bringing the most promising technologies from Silicon Valley and the 'innovation economy' together with leading global brands to create solutions for real-world marketing problems".
Nothing too strange there, you might think, given that the creeping nature of Americanisms in English business speak has made such statements almost commonplace. And compared with WPP's effort at heralding the launch of Xaxis, Group M's "pool of audience profiles in (a) proprietary database ...
reaching more touchpoints than any other solution in the industry", it's almost a contender for a Plain English Award.
But what follows is a prime example of what is probably good and useful intent hidden behind what sounds suspiciously like bullshit. As well as an "Interactive Shoe Kiosk", there's a "Virtual Dressing Room" that is apparently designed for both its clients and as an internal resource for IPG to find new ways to connect with consumers in the digital space.
Omnicom Media Group also has form in this area - in October 2010, it launched Annalect Group, a "strategically focused, data-informed marketing platform" that "will align and leverage consumer data from the group's $2 billion in digital investments to deliver a higher level of consumer insight, and increase the efficiency and impact of client media investments". When it comes to investing or upgrading the digital side of businesses, it seems that it is essential to make it sound as confusing and faux-technical as possible.
Of course, none of the companies involved see it that way. In a remarkably clear and concise accompanying quote, Matt Seiler, the global chief executive of Mediabrands, explains: "Mediabrands is investing significantly in the future of brand communications. We, as partners to major international brands, have a duty to keep our clients and agency talent apprised of landscape changes and developing opportunities to engage a rapidly advancing global consumer."
It's just a shame that those highly paid internal PRs don't have the same brevity when announcing what has happened.
In fairness, IPG Media Lab is similar to UM London's Curiosity Lab, which was launched four years ago and showcases emerging technology - but on a bigger global scale and for international clients.
IPG Media Lab initially features six media developments that will, it claims, allow clients to touch, interact and test applications, platforms and technologies. We wish the company had said that in the first place.
1. The Transparent LCD Freezer/Cooler Door. In short, this is digital signage for the freezer aisle that can be used to advertise at the point of purchase.
2. The Interactive Shoe Kiosk. This allows products that are tagged with RFID (radio-frequency identication) to be recognised when placed on a table by a screen. The screen then provides information on the product. It can also marry up customer reviews and associated information from social media platforms.
3. Audience Measurement (using facial recognition). Cameras are used to measure facial - and therefore emotional - response to products and media.
4. The CMO Desk of the Future. An interactive desk for marketers that provides an amalgamation of real-time data relevant to his or her company. For example, this could include usage of a company's website, brand and competitor chatter, data by local market, share price and other economic impacts.
5. The Virtual Dressing Room. An augmented reality tool with which a customer can take pictures of item tags on a mobile device in store and then try them on and purchase them at home. The technology uses a Microsoft Kinect camera to show the item on the body.
6. The Interactive Mirror (And Glass). This is the transactional part of the Virtual Dressing Room - as well as allowing customers to purchase items, they can share them via social networks and be offered suggestions on other items that they might like.
WHAT IT MEANS FOR ...
Clients
- The opportunity to trial emerging technologies and their potential impact on a client's business is a powerful one. IPG Media Lab is a well-resourced offering comprising 5,000 square feet of space and with the ambition of having, at any one time, 50 technologies, platforms and applications. The company claims to have vetted and compiled a database of more than 500 emerging companies that it thinks may allow consumers to connect with the digital space in the future. However, it is currently only a New York resource - so difficult for non-US or global clients to access.
IPG Mediabrands' agencies
- While UM London's Curiosity Lab offers UK clients a similar service, albeit on a smaller scale, there is hope that an IPG Media Lab will be rolled out to the regional hubs. Nonetheless, information on all of the companies that are chosen for inclusion in the IPG Media Lab compendium will be disseminated to all Mediabrands employees, so even if they can't yet touch them, they are aware of their implications.
The Plain English campaign
- Sadly, while new technology often comes with accompanying jargon, agencies are all too quick to repackage it or embellish it to provide a layer of mystique that it usually doesn't warrant. IPG may be early off the blocks with its IPG Media Lab offering, but expect more to follow suit with equally baffling results.