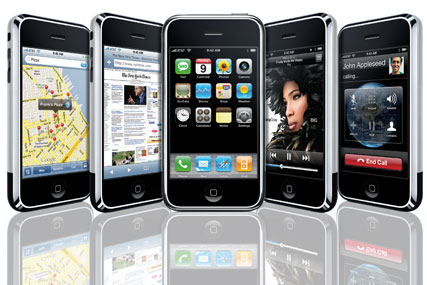 The company has posted revenue of $7.9bn and net quarterly profit of $1.14bn for its fiscal 2008 quarter, which ended 27 September.
Growth was said to be part driven by the "spectacular" sale of 6.89 million next-generation iPhones. The fast global take-up makes Apple the third-largest mobile phone supplier by revenue behind Nokia and Samsung Electronics, and ahead of BlackBerry.
Apple also shipped 2.6 million Macintosh computers during the quarter, representing 21% growth year on year on the previous quarter. The company also sold 11 million iPods during the period, an 8% lift.
Steve Jobs, chief executive of Apple, said: "Apple just reported one of the best quarters in its history, with a spectacular performance by the iPhone - we sold more phones than RIM [Blackberry marker]."
Despite the stellar performance, the company remained cautious in its outlook and predicted target revenue for the next quarter below analyst expectations.
Peter Oppenheimer, chief financial officer at Apple, said: "Looking ahead, our visibility is low and forecasting is challenging and as a result we are going to be prudent in predicting the December quarter."
The results coincide with the launch of a new advertising campaign by Apple in the US today, which continues its global 'Mac vc PC' theme. The 'Get a Mac' TV ads, openly attack Microsoft's latest operating system Windows Vista.